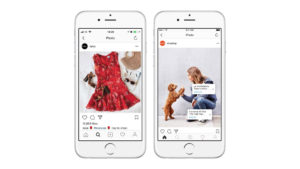 Instagram is having more and more impact on people's decisions every day with the app leading a quarter of its UK users to make a purchase based on content they've seen.
According to a YouGov survey of 500 Instagram users in the UK, commissioned by influencing marketing platform Takumi, 25 per cent of UK Instagram users have either bought a something directly from the app or in store at a later date after seeing it on the platform. This figure increases 32 per cent among 18 to 35-year-olds.
"From 18 right up to 35, Instagram is one of the most important channels for following social media influencers, and that's then mirrored by purchase behaviour. And even though there is currently a drop off rate as you tip into the over 35 audience we see this changing significantly in the next couple of years as users adapt and grow," said Mats Stigzelius, co-founder and CEO at Takumi.
"What we have to remember is that these younger audiences are the ones that will go on to wield significant spending power in the years to come, and many of their habits will stay with them. They are digital natives that have grown up with eCommerce, and as a result brands and businesses will have to change how they communicate with them. The key is to develop relationships now, and build a presence among the channels and influencers that matter most to them from the start."
A big factor in these purchasing decisions appears to be the role of influencers on the platform. In the survey, 30 per cent of users admitted they are more likely to buy a product or a service if they see it promoted by an influencer or social advert – rising to 47 per cent for 18 to 24-year-olds, where 57 per cent say they don't trust influencers who post about products or services not relevant to their channel.
Moving away from influencers, the research found that 45 per cent of UK Instagram users prefer social media ads to traditional ads – because they can click through directly to a product or service online. Meanwhile, 35 per cent prefer social media ads because the content is tailored to them and therefore more relevant.
"Social ads are the centre of a lot of debate at the moment, but if you cast that aside and look at how well consumers engage with them, it's clear that it can be a lot more convenient and useful than some of the more tried and tested formats," said Stigzelius. "For brands though, the most important thing to consider is the quality of the content, as that's what will really help their message stand out amongst the noise."
Source: Mobile Marketing Magazine