Google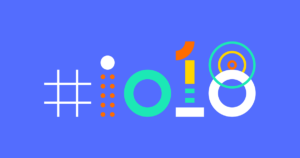 kicked off its annual I/O developer conference with a barrage of announcements that show how artificial intelligence (AI) will give its next Android mobile operating system the ability to learn how people use their phones to make calls, schedule their day, listen to music, book tickets and read news. Android P will have augmented reality (AR) features to help people navigate their surroundings, and the ability to preview apps before downloading them.
Google CEO Sundar Pichai wowed the audience with a demonstration of a Google Assistant natural-language bot called Duplex that the company is refining. Assistant users in the future will be able to book appointments and reservations by asking the app to handle the task of making a phone call and speaking to a live human being. Assistant convinced people at a hair salon and restaurant that they were speaking to a real person.
In the shorter term, Starbucks, Dunkin' Donuts and Domino's Pizza are among the companies working with Google to bring voice ordering to Google Assistant on Android phones this summer. The voice-enabled app will remember a consumer's favorite order and submit it for pick-up or delivery, depending on the availability.
Google packed the opening day of its developer conference with all kinds of news to get consumers excited about all the features that are coming to Android and Google Assistant, as the tech giant vies with Apple, Amazon, Facebook and Microsoft for the attention of software developers. Many of Google's presentations showed how its technology will change the way businesses interact with their customers — in a variety of industries. Google emphasized how AI is influencing the design of its mobile operating system to give Android phones a much broader range of capabilities.
For marketers,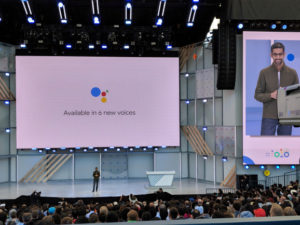 Google demonstrated how they can use Android to provide their customers with more individualized attention. For example, Google Assistant can help Starbucks take orders with voice commands, remember a customer's personal preferences and cross-sell additional menu items, per CNET. Google said that 60% of small businesses don't have an automated booking system, which would be a good application for its Duplex technology to handle voice interactions with customers. Hair salons, plumbers and auto mechanics are among the businesses that could adopt the technology when it becomes available.
For advertisers, Google demonstrated how they will be able to show more content within their app promotion ads in Google Play. A shopping or e-commerce app can connect their product catalog to AdWords to show several product images and descriptions in a carousel format, per Marketing Land. Google said a test will be available in the coming months.
For app developers, Google showed off its Slices and App Actions features that make the interactions with apps more seamless. Slices provide users with a mini snippet of an app, and they can appear in Google Search and Google Assistant. Slices lets users type a request like "I want to book a ride" in the search box, and a mini version of a ride-hailing app like Lyft or Uber will appear without having to open the main app, per TechCrunch. Actions allow apps to bring content directly to Android surfaces like Search, Google Assistant and the Google Launcher when the user needs it. The idea is to encourage engagement with third-party apps by making them more accessible.
Urban Airship worked with Google Pay to create streamlined and engaging ticketing and boarding pass experiences, per a statement. The combination of Google Pay's new ticket support and the Urban Airship platform makes it easy for any business to provide better user experiences.
Source: Mobile Marketer