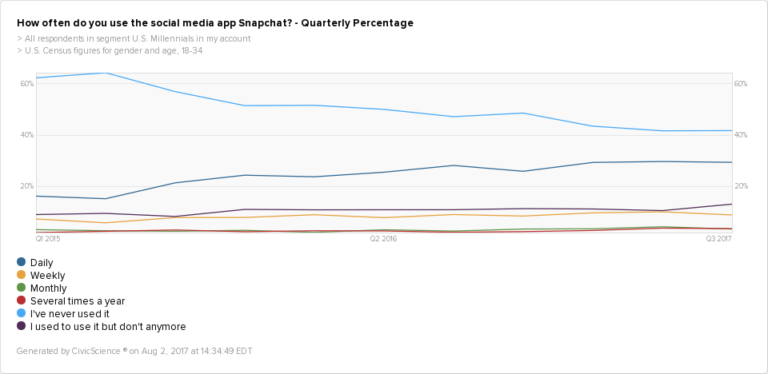 In the ongoing fight for millennial attention between social media apps Instagram and Snapchat, it would appear that Instagram is now slightly ahead. That's according to a survey from online research company CivicScience among US millennials.
The latest data found that 34% of millennials said they used Instagram daily, compared to just 28% on Snapchat. Whilst the number of daily Snapchat users appears to be increasing, there's also a trend toward app abandonment, with a 2% rise in drop-outs during the second quarter of the year.
Following the latest Snapchat earnings failure, the results may not come as a surprise. However, when taking a look at Instagram usage over the last two quarters an interesting trend emerges. Daily millennial users of Instagram have been steadily growing at 2% since the last quarter. In addition, the data suggests that there aren't many millennials dropping the app compared to Snapchat.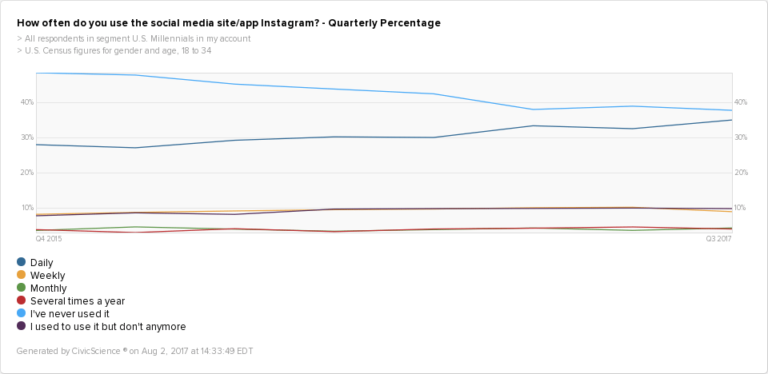 There are some conflicting views on this issue and the above findings may not be representative of the entire population. It is not clear how many millennials were surveyed by CivicScience. However, results appear to be quite different for teenagers.
Indeed, a survey of America teens by The Associated Press-NORC Center for Public Affairs Research found that slightly fewer 13- to 17-year-olds used Snapchat (75%) compared to Instagram (76%). Meanwhile, Facebook appears to be losing grasp of the age-group at 66%. The survey was conducted among 790 teenagers in the US.
Further, according to a survey of 5,500 teenagers conducted by Piper Jaffray, Snapchat turns out to be the app of choice – at least in spring 2017. 81% of teens said they were using Snapchat each month, compared to 79% of them using Instagram. Whilst usage may not be dramatically different, preference is. 39% of respondents said that Snapchat was their favourite app compared to just 23% preferring Instagram.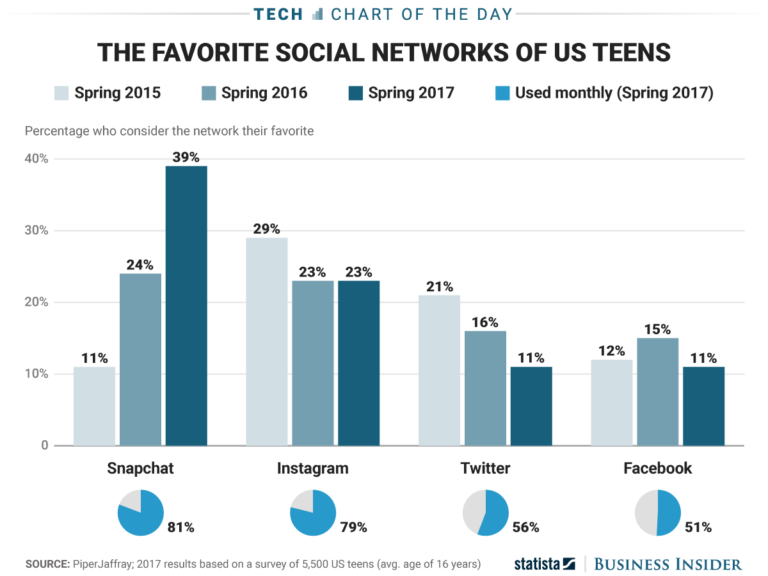 Regardless of usership and preference, Snapchat has some serious catching up to do if it wants to grow and prove its worth to its shareholders. In addition, users continue to seek novel and innovative ways to engage with the app. Given Snapchat's portfolio of creative features it's likely the app will continue its innovation streak.
Source: Mobyaffiliates