Online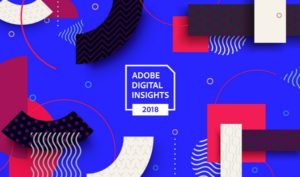 retail has long lamented the smartphone visit-to-revenue gap. The fact is, it remains a challenge.
But every cloud has a silver lining: That gap is also shrinking. According to "A Mobile-First World," a new report from Adobe Digital Insights (ADI) that examined data from Adobe Analytics, smartphone visits are increasing in value at a quicker pace than desktop. In the past three years alone, smartphone visits have closed the value gap to desktop by 10 percentage points, ADI found.
Smartphone visits also are becoming much shorter in terms of overall session duration and the number of pages viewed per visitor, said Costa Lasiy, a data science analyst for ADI.
"The attention span of users is becoming shorter, and we think it's because they are expecting higher quality, straight-to-the-point browsing experiences," she said. "They don't want to go through 20 pages, especially when they're on their smartphones. Retailers that are hoping to close the visit-to-revenue gap might want to consider simplifying their mobile experiences."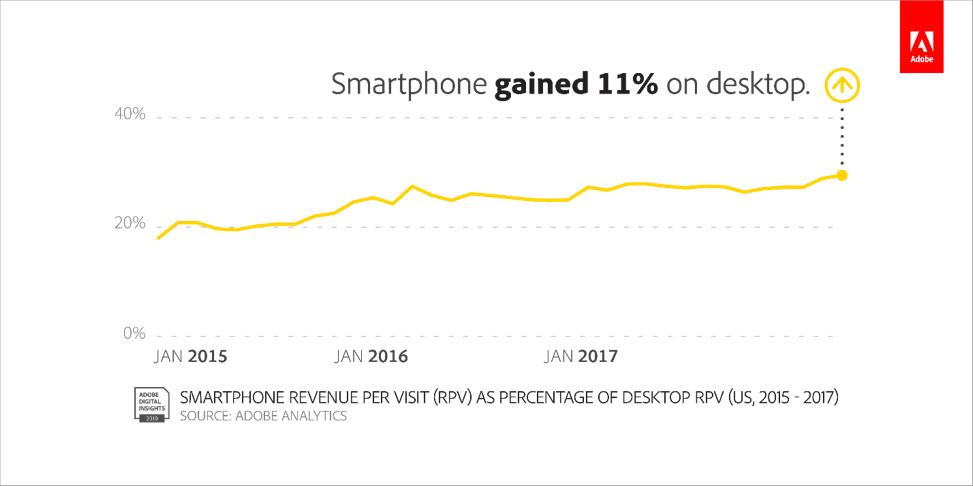 5G will make a world of difference, especially given the relationship between conversion and connection speed or page load times. According to Google, 53% of mobile users abandon sites that take longer than three seconds to load. According to ADI's estimations, 5G and improved connectivity could mean an additional $12 billion in revenue per year for retailers by 2021.
Visitors Welcome
Overall, online visits to U.S. websites have been flat for the past three years, ADI found. And, given that a whopping 76.2% of the U.S. population was already connected to the internet as of 2016, significant growth won't come from new users, ADI said. "To stay relevant, websites have to embrace the shift to smartphones, as they are the only devices that have seen growth in online visits," Lasiy expplained.
Indeed, smartphone visits to U.S. websites are up 89.4% since January 2015, while tablet and desktop both declined in visits–down 30% and 16.6%, respectively.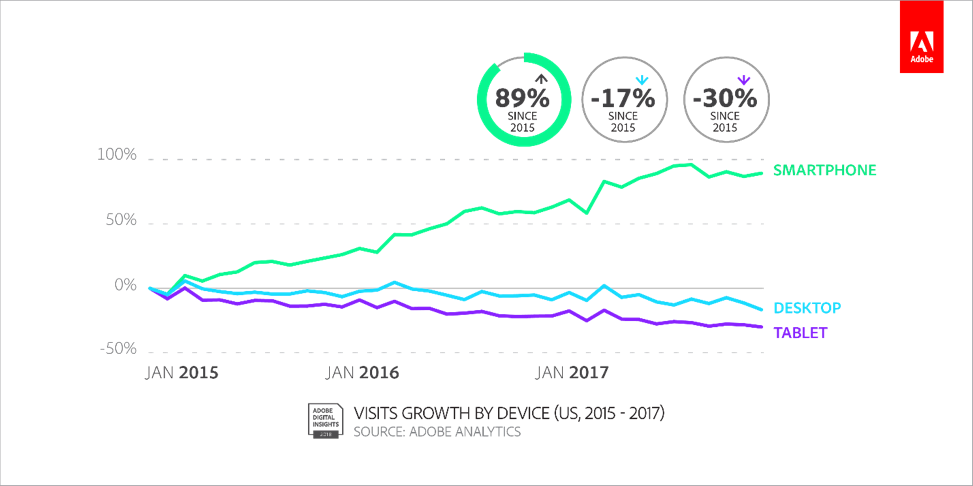 Smartphones are driving an increase in internet users outside of the U.S. as well, according to ADI: The biggest growth is coming from India, where the smartphone population increased by 211 million since January 2015. China came in at a close second, with 169 million new smartphone users.
"There are large populations that are only now going digital, and the smartphone is their first internet-connected device," Lasiy explained.
iOS devices remain the main drivers of online visits, with about 59% of online visits to U.S. websites, while Android has 41%, according to ADI. Interestingly, share of online visits from smartphones is highly correlated with temperature: Places with warmer weather typically see high mobile usage since people are more likely to be on the go rather than at home and connected to Wi-Fi. Every rise of 3.6 degrees Fahrenheit increases smartphone share by 1%, ADI found.
"In a marketing world driven by data and online analytics, the importance of the 'real world' gets forgotten," Lasiy said. "Marketers need to understand a consumer's digital footprint, of course, but don't forget that your users are in a physical world, as that gives additional context."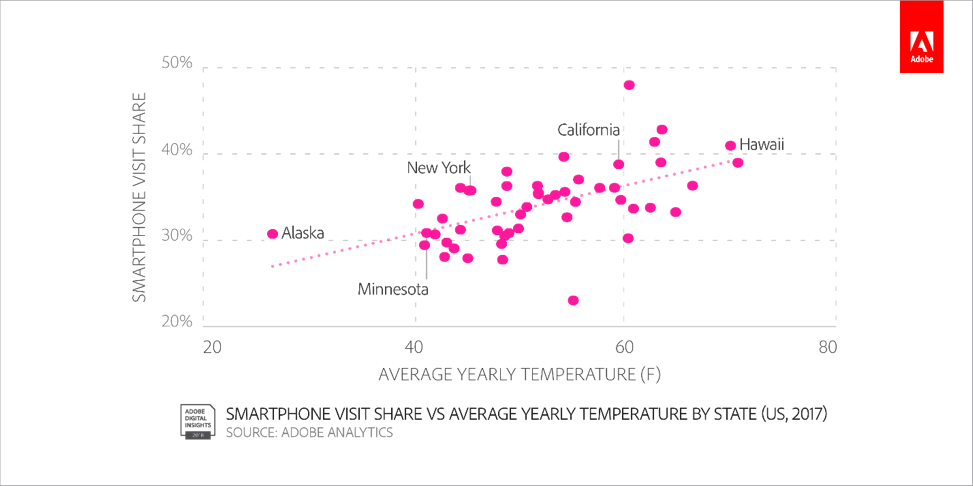 Mobile Revolution
Just as all advertising is marketing, but not all marketing is advertising, the same logic holds true for smartphones and mobile. And now that emerging technologies, such as voice and immersive realities, are part of the equation, the definition of mobile is growing to be a broader set of devices and technology.
Consumers are already experimenting. ADI found the U.S. is ahead of Europe when it comes to redefining what a smartphone is and does. For example, in the U.S. twice as many people have tried virtual and augmented reality features on their smartphones as have people in Germany. Additionally, Americans are much more comfortable than Europeans when using voice assistants in front of others, demonstrating their earlier adoption of voice assistants.
Source: Adobe Digital Insights