People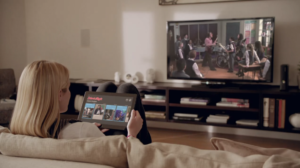 that use their phone or tablet while watching TV are more likely to follow up on a TV advert, contrary to what is believed within advertising circles.
Viewers using a device while watching TV are 75 per cent more likely to actually follow up on an ad, according to research from MediaCom and ViewersLogic.
"In the past few years, the way people watch TV has changed quite drastically; on average, people spend around 30 per cent of their TV time simultaneously looking at their phone or tablet." Said Pauline Robson, head of insight at MediaCom. "Historically, brands have shuddered at the thought of attention wandering to the second screen. However, our research has flipped that misconception on its head and shown that advertisers should actively look for shows where the audience is most likely to be second screening. Media plans should actively take into account the second screening effect in order to improve efficiency; the opportunities for brands are huge."
The study of 1,877 people from the UK also found women were more receptive to ads while 'second screening', with 59 per cent of their active responses happening while they were on their phone or tablet, compared to 51 per cent of men.
The 40 to 54 age group was the most responsive with 57 per cent of all active responses, while the over 55s were the least responsive with 50 per cent.
The research also found that people that who second screen are more brand aware, finding a 12-percentage point difference in brand awareness between those who second screened and those that did not in one example. Furthermore, the average number of channel changes a person does when second screening is 10 per cent lower, though 18 to 24-year olds actually changed the channel more while on another device.
Source: Mobile Marketing Magazine