In-app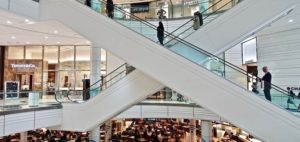 ads were more effective than web ads in driving increases in store visits last year, per a study by location intelligence firm Cuebiq. Its analysis indicates that in-app ads generated gains in foot traffic of as much as 19%-49%, compared with 10%-33% for web ads in 2017.
Brands spent an average of $23.05 in 2017 to drive each incremental store visit, per Cuebiq's Footfall Attribution Benchmarks report. General retail showed the highest median cost per increment visit (CPIV) of $54.51, followed by home appliances at $52.29 and automotive at $36.64.
Consumers visit car dealerships for an average of 35 minutes, with the peak visit time between 12 p.m. and 1 p.m. Gas stations, quick-service restaurants, pharmacies and finance locations hover in the low 20-minute range and below. The peak time to visit pharmacies was 9 a.m. to 10 a.m., while fast-food restaurants showed the most visits at lunchtime.
Cuebiq's data indicate that in-app ads are more effective at driving store visits than mobile websites, which may be because apps have better capabilities at targeting key customers. The superiority of in-app ads also is the result of how mobile users spend their time. Consumers spend 89.2% of their time on smartphones in apps, and 76.8% of their time on tablets in apps, per eMarketer. Advertisers also have more control over the ad experience in these environments, because in-app ads integrate seamlessly into the design and the experience of the app. As a result, in-app advertising tends to see bigger gains. Web ads alone rank third in median gains, and they derive a boost from mobile when used in cross-device campaigns, per Cuebiq.
The study shows that some kinds of retailers get more bang for their mobile-marketing buck. Electronics, telecommunications and financial services showed the most gains in foot traffic from mobile ads, with increases ranging from 30% to 90%. Retail, QSR and automotive had the lowest response with store visits from advertising rising less than 40% on average. Cuebiq uses the location data of mobile users to understand how marketing channels affect store visits and how campaigns performed compared with industry averages.
Source: Mobile Marketer