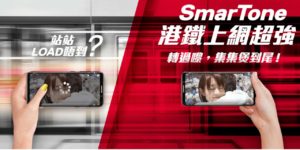 SmarTone has launched a programmatic out-of-home campaign in train stations (MTR) in Hong Kong through local free-to-air broadcaster Television Broadcasts Limited (TVB)'s OTT platform, myTV Super.
According to the Hong Kong-based telecom, this campaign is the first of its kind in the country to tap into myTV Super's data management platform, which allow brands to reach consumers within the proximity of a MTR station.
With the help of Ominicom and Google data, SmarTone launched TVC and display ads to communicate the fast, stable and seamless mobile experiences of the SmarTone 5S phone on the MTR, by broadcasting TVC plays in-stream on users' devices to reinforce the brand message, while retargeting drove conversions with tactical and relevant offers.
"We are thrilled to be the first mobile operator to launch a location-targeting campaign at MTRs. We understand our customers' needs and pain points, which has led us to launch a unique campaign that proliferates the SmarTone 5S standard – bringing customers Speed, Stability and Seamless mobile experiences, as well as Security and unrivalled customer Service," said Josephine Lam, head of marketing & sales at SmarTone.
Source: The Drum