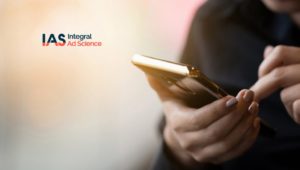 Programmatic advertising viewability rates outperformed publisher direct buys across both desktop and mobile web display for the first time in the second half of 2018.
UK desktop display ads meeting the minimum viewability standards rose 8.2 per cent from H1 2018 to 69.1 per cent in H2 2018. Meanwhile, 62.4 per cent of UK mobile web display impressions now meet minimum viewability standards, increasing 16.6 per cent year-on-year from H2 2017 to H2 2018, according to Integral Ad Science (IAS).
In comparison, publisher direct ads saw a rise of just 3.9 per cent, growing from 65.1 per cent to 67.7 per cent.
IAS found that video campaign impressions surpassed both display and mobile web in terms of total length of time an ad was in view. Video achieved 13.4 seconds versus 10.7 seconds for display and 7.9 seconds for mobile web in H2 2018.
"Findings from the H2 2018 Media Quality Report demonstrate the major shift towards programmatic trading, with the term 'programmatic' no longer associated with lower quality inventory," said Nick Morley, EMEA MD at Integral Ad Science. "This is likely due in part to an increase in publishers utilising programmatic to sell valuable inventory, via private marketplaces (PMPs). Another noticeable shift is that seen in video engagement, with content consumption patterns reflected in the time-in-view data."
The report also showed a continued decline in brand risk. The volume of desktop display ads served in 'inappropriate environments' fell 28.9 per cent from H1 2018, coming down from 4.5 per cent to 3.2 per cent in H2 2018.
However, ad fraud is on the rise. One per cent of optimised UK desktop display impressions were wasted in H2 2018 – a rise of 40.3 per cent from the 0.7 per cent in H1 2018. IAS partly attributes this to fraudsters capitalising on the holiday shopping period in Q4 2018.
"Thanks to increasing budget flowing to digital, advertisers are demanding greater quality and maximised impact from their entire media plan," said Morley. "According to the IAB UK, £2.3 billion was spent on display advertising in H1 2018 – as fraud hovers around the one per cent mark we can estimate that roughly £230m of that UK spend was wasted by being intercepted by fraudsters. With this insight into the performance of media, advertisers can plan accordingly to improve their ad effectiveness."
Source: Mobile Marketing Magazine