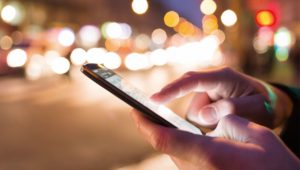 The UK is the largest market for digital ad spending in Europe, with more than double the amount of spending in digital channels than Germany, the next biggest market. And increasingly, digital ad spending is moving to mobile.
eMarketer forecast that overall digital ad spending for 2018 will account for 63.6% of total media ad spending, and that spending will increase 9.9% in 2019.
Their latest report, "UK Digital Ad Spending by Industry 2018: Forecasts and Statistics for Automotive, CPG, Financial Services, Retail, Travel," looks at how digital ad spending will shift next year.
In 2018, marketers in the UK are expected to spend more than double the amount in digital channels than TV, or any other traditional medium, according to data from the Advertising Association (AA)-UK and Warc. And much of the growth in UK ad spend in digital channels through 2019 is expected to come from mobile, up 20.3% in 2018, followed by a 15.5% increase in 2019.
"Fundamentally, it's consumer usage that's driving the spend in mobile," said Andrew Mason, media operations director for UK and EMEA at Digitas. The amount of time spent daily by mobile phone users in the UK—we estimate non-voice mobile usage to be 182 minutes per day, on average—is, "driving brands to think mobile first," he added.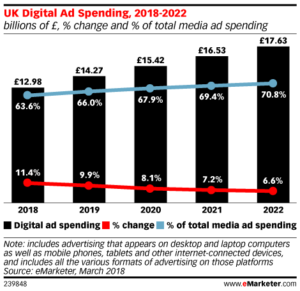 In the UK, non-voice mobile usage is forecast at 182 minutes per day, and that consumer behaviour is encouraging brands to shift spending to mobile. Automotive, CPG, retail and travel marketers are exploring how to best use mobile to deliver relevant and targeted messages. Retailers are seeing an increase in conversion on mobile.
As eCommerce habits become more ingrained, retailers are using mobile to reach consumers while they are in decision-making mode. Financial services marketers, however, have been hindered from fully embracing digital campaigns due to privacy concerns, but GDPR policies may help consumers overcome reluctance in allowing banks and credit card companies to target them.
"It's increasingly crucial to have a strong suite of mobile products and with mobile consumption on the rise, we will continue to develop new ways for brands to utilise this medium through creative formats that break through the clutter," said Eric Visser, CEO and founder of JustPremium.
Source: eMarketer