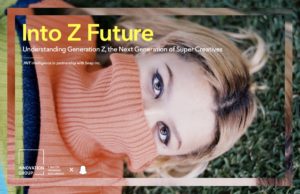 Raised with online creative tools and entrepreneurial platforms to broadcast their creations, Gen Z is defining a new era of influence and creative communication. This group, ages 13 to 22 years old, are already monetizing their outputs, building empires, e-zines, communities and more—all while using visual tools like those available on Snapchat to propel their influence.
Their creative arsenal—face swaps, selfies, AR Lenses, and emojis—has become the expressive staple of the digital arena, and now this group is using video, sound, animation and more to create rich new visual landscapes, lobby for their favorite causes, and create new income streams. Meet the Gen Z Super Creatives: the supercharged multidisciplinary future of creative talent.
More than half of Gen Z (51%) say their generation is more creative than previous generations, according to a 2019 study conducted in the United States and the United Kingdom by JWT Intelligence. They are setting a new tone for visual culture—after an era of posed photos against millennial-pink backdrops, a new wave of content mixes selfies with spoken word, imperfect collages with augmented reality (AR) landscapes, and illustration with candid livestreams. This is layered with the need to live their truth, and an acute sense of social responsibility.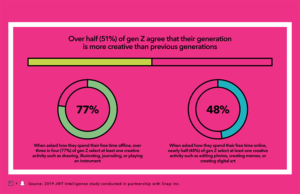 "Gen Z are absolutely more creative, but it's more utilitarian than other generations," Molly Logan, cofounder of Gen Z run think tank, Irregular Labs, tells JWT Intelligence.
In other words, while "creativity" was taught to millennials and Generation X in art classes, it's significantly more inherent for Gen Z.
"We give people the expectation, the means to always be creating," Jeff Miller, global head of business marketing at Snap, tells JWT Intelligence. "The creativity that we've seen develop around Gen Z has really manifested organically based on how they communicate with each other…it's a very natural thing that they don't have to go to an advertising school or develop a formal portfolio in terms of how they create—it's something that's intuitive to them."
"Everybody is a creator on Snapchat," Benjamin Paruzynski, an official Snapchat Lens Studio Creator, tells JWT Intelligence. "They have the tools to draw and to add little stickers, and that creative freedom that isn't allowed on other platforms is what really sets Snapchat apart…Everyone really wants to express themselves, and Snapchat makes that easy to do."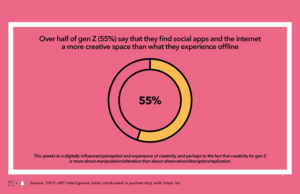 From its inception, Snapchat has inherently created a frictionless space where Gen Z creatives can experiment with their identities, yet not have to feel like they're "on brand" in communicating to their close friend groups.
"A lot of the product philosophy around ephemerality is grounded by this notion that you can be whoever you want to be today, without a record of who you were yesterday," says Amy Moussavi, global head of Consumer Insights at Snapchat. "We've seen this has unlocked an online community without judgment or social currency. This is reflected in how people feel when they use the app. For instance, a recent study found 95% of Snapchatters say the app makes them happy, which was higher than any other app tested."
Their creative language is crucial for brands and marketers to translate. Gen Z make up about a quarter of the population in the United States and the United Kingdom. A 2013 Mintel report put their annual purchasing power at $44 billion in the United States alone, with some estimates putting this figure much higher, making their engagement a boon for brands.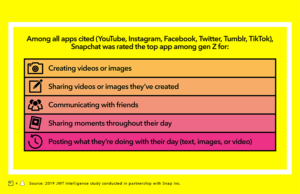 What Gen Zers all have in common is an intuitive relationship with social platforms and digital tools that are continuously evolving. They are overwhelmingly embracing new digital tools and features from platforms like Snapchat, but many also recognize the need to take a break from the internet's immersive influence and wield the creative power of the analogue and IRL.
Snapchat has partnered with JWT Intelligence to explore this new generation of leaders. With their budding reach in culture and media, Gen Z are redefining what brands and marketers may have originally thought about identity, communication, and the future of creative talent.
Source: Snap Inc