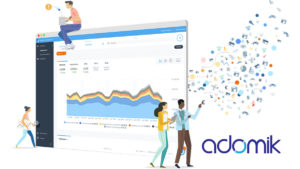 Adomik, the Paris-based platform that simplifies monetisation for publishers launched its UK operations and office in 2018 Q4, and recruited Ollie Chadwick as UK Country Manager. The company also announces the release of exclusive European and UK specific programmatic data for 2018.
Adomik's platform is built with and for publishers to address their main monetisation challenges. With it, publishers have all their advertising data in one place and can compare their business performance to the market. The Data Engine, the heart of the platform, powers the five Adomik products and Professional Services. It has been designed to automatically collect, process, store and unify all of your monetisation data, and generate analyses and recommendations to increase revenues across all channels.
"The main challenge we hear from publishers today centres around resolving data fragmentation across multiple sources, and unifying that data into one meaningful, actionable platform." Ollie Chadwick, Country Manager for the UK said. "Adomik's mission is to provide exactly that platform for publishers, relying on intelligent data to educate business decisions and maximise their revenue. It's a great time to be joining Adomik and building out a team of sales professionals to address the new and future needs of the UK publishing industry."
Adomik is already working with dozens of the UK's major publishers, including The Guardian, The Telegraph, News UK, VICE and Auto Trader UK. With MarketWatch/SELL, Adomik collects and analyses data from publishers to later provide increased visibility into the market demand and landscape as it evolves. These analytics are available to publishers via the MarketWatch/SELL dashboard, where they can assess their business performance, compare it to the market and find new prospects with market intelligence.
Proprietary data on state of industry
Applying this internal pool of data, Adomik revealed exclusive insights into what the programmatic market looked like in 2018, to illustrate a marketplace that is under pressure with only some publishers emerging unscathed. In 2018, UK publishers' growth was between 5% and 15%, and for some publishers even lower. However, GAFA are capturing the growth, making it difficult for publishers to grow. The positive news is that among selected European publishers who developed a Header Bidding Strategy, the Cost per Impression (CPM) grew by 37%, showing that publishers are evolving in the right direction with unifying their programmatic auction.
In the programmatic market, one of the main drivers of growth is what is called programmatic guaranteed – defined by IAB as an automatic one seller-one buyer transaction with fixed pricing and reserved inventory. For selected international publishers who have started a dedicated strategy around programmatic guaranteed, the PG share of revenue has reached 22%, and the CPM was ten times higher than the Open Auction CPM. Another driver of growth is the increasing adoption of Server Side header bidding solution which now accounts for up to 25% of programmatic revenue for UK publishers and is expected grow further.
Google remains dominant even if Google Adwords fell 2% from last year, which sits at 18% market share now. In fact, that market share was absorbed by Display and Video 360 – which reached 11.3% of the market.
"We are delighted to expand in the UK in response to sustained demand from our publisher partners in the market," said Nicolas Schueller, Founder and CEO at Adomik. "One of Adomik's key success factors has always been remaining close to our partners and providing tailored solutions and outstanding customers support. We look forward to consolidating our presence in the market and further addressing the specific needs of our partners through a dedicated team. The timing for the launch could not be better, since we just rolled out Adomik's brand new platform, which aims at solving publishers' current monetisation issues, and giving them the means to understand, operate, decide and sell better, all from a single platform."
"Adomik has been an invaluable partner for The Guardian in simplifying our reporting challenges," explained James Swan, Programmatic Account Director at The Guardian. "Within its easy-to-use dashboard, the Adomik team set up customised functionalities to fit the tool to our needs. The platform helps us to get consolidated and comprehensible data for the majority of our advertising activity, compare our business performance to the market and make well- informed, data-driven decisions. It has greatly decreased our daily workload and the time spent on reporting and analysis."
Adomik secured the 14th position in Deloitte's Technology Fast 500 ranking for Europe the Middle East and Africa. In 2013, the company received Seed funding from Iris Capital, Elaia Partners. With offices in Paris, New York and Tokyo, and now London, Adomik works with top publishers in more than 20 markets.
Source: Adomik