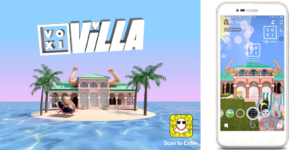 Voxi, Vodafone's youth-facing sub-brand, is leaning into the power of Snapchat for its latest marketing campaign.
The Voxi brand was launched in 2017 and is a rival of Three, which ran its own Puggerfly activity on Snapchat last year. Now Voxi has launched its first ever Snapchat presence which is trying to capitalise on the Love Island mania.
The marketing department claims that users will experience the "joys of summertime in a beautiful villa – not unlike the one that is currently captivating millions of TV viewers!" if the test out the activity on the social app.
People can use the Snapchat Portal Lens to enter the Voxi Villa where they will find content inline with the madcap Voxi brand.
The Villa is filled with a collection of characters and objects that celebrate the popular meme culture on social media and shifts from day and night in real time, populating the experience with new content.
The work ultimately aims to show that Vodafone's Voxi offers customers endless social media data. The activity will run for three weeks, in line with Love Island's run.
Source: The Drum