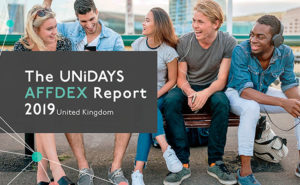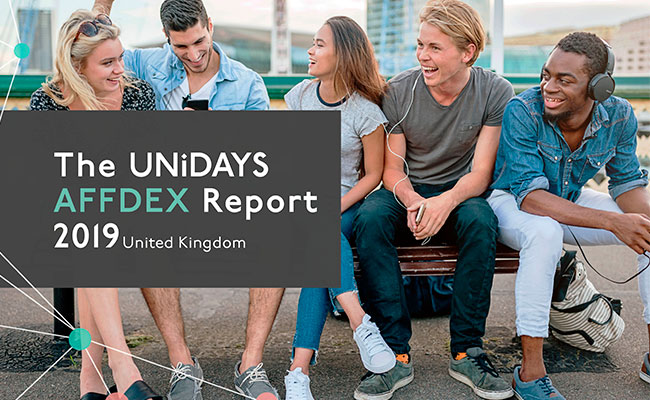 Experts in brand measurement and customer analytics from UNiDAYS, a leading Global Student Affinity Network, have utilised their market-leading access to millions of college and university students around the world to create an index that measures Gen Z's affinity for a range of leading brands. 
The AFFDEX covers 12 industries and is built on insights from 17,500 verified students across the UK and the US. It provides analyses of the key considerations that drive Gen Z' brand affinity and ranks brands according to the amount of affinity this audience feel for them.
The considerations that drive brand affinity were assessed by having respondents rank in order of importance the things that mattered most to them within each industry. This data was then collated and the differing considerations organised with the most relevant coming top and least relevant bottom.
While brands are ranked according to their Affinity Score. The higher the score, the more Affinity Gen Z students feel towards the brand. The AFFDEX quantifies how much affinity is held towards brands by applying a proprietary algorithm to the thousands of students responses. The algorithm is modelled on a unique mix of brand awareness, purchase consideration, recommendation and preference.

Marketers can access the AFFDEX in greater depth, in the form of tailored reports, customisable for each brand. These provide brands with a deep dive into what is driving brand affinity among Gen Z students, and how to increase it. Each report reveals how a brand stacks up in relation to its competitors. As well as how much of their market share is at risk through a lack of affinity underpinning it, or how much additional revenue can be won through a surplus of affinity.
Alex Gallagher, UNiDAYS Chief Strategy Officer says: "UNiDAYS is the market leader in understanding the attitudes and behaviours of young people, with millions of members across the UK and US. We're always looking for new ways to connect students with organisations, in order to create value for both groups. Affinity is a powerful concept. It moves minds, shaping purchase behaviour and brand loyalties,  and in turn moving markets. The AFFDEX will be an incredibly effective tool for marketers, helping them to understand what's driving the behaviour of an increasingly powerful group of consumers. Even more than this, the AFFDEX provides a playbook for brands looking to engage effectively with this vital demographic of Gen Z students. For each brand, it clearly outlines the marketing actions that will increase its affinity and market share " 
Unlike other established methods of brand measurement, the AFFDEX is generated solely from verified students. It also, uniquely, makes possible comparisons between industries. What's more, it's proprietary methodology has been developed in a way to ensure it is less volatile, and therefore more useful, than other measures such as the Net Promoter Score.
During the analysis of the most important factors that influence Gen Z students' purchasing decisions, it became apparent that this audience do not fit the stereotype often portrayed in popular culture. UNiDAYS found that despite being widely characterised as an environmentally and socially conscientious generation, when it comes to choosing which brands to spend their money with, students in Generation Z still prioritise pragmatic concerns over ethical ones.
In 11 of the 12 industries the report analysed, ethical concerns did not place in the top three most important considerations driving brand affinity.
The report also revealed that many established brands still lead in affinity, but that disruptors are rapidly gaining ground with Gen Z. The power that big brands continue to hold is reflected in Nike's success. Nike emerged victorious with the highest Affinity Score of the 200+ companies included in the AFFDEX.
As Alex Gallagher, UNiDAYS Chief Strategy Officer, explains: "Nike's performance is a remarkable testament to the timeless power of single-minded brand purpose driving affinity. Nike's commitment to fresh sponsorships, partnerships, flagship retail experiences and advertising unafraid to polarise and spark reaction, has kept it constantly relevant."
However, the AFFDEX shows established companies can't rest on their laurels. According to the report, the brands gaining affinity fastest with Gen Z are new disruptors. These disruptors have been labelled 'Affinity Tigers' by UNiDAYS. These Affinity Tigers have a much higher share of Gen Z Affinity than Gen Z spend. This means that they have a huge opportunity to turn affinity into sales, and grow their market share at the expense of their competitors. Therefore, competitors would be wise to dedicate close attention to these Affinity Tigers in the coming months and years.
One of these Affinity Tigers is Wagamama. Wagamama currently holds just 4% of the quick-service restaurant sector's Gen Z market share – yet it holds 6% of its Affinity share, a surplus of 2%. This means that if Wagamama were to make itself more available, in ways assessed for it in the AFFDEX, its Gen Z sales could increase by as much as 50%, delivering significant commercial gain.
Detailed sector-by-sector breakdowns of the AFFDEX report data is available on request from UNiDAYS.
Source: UNiDAYS