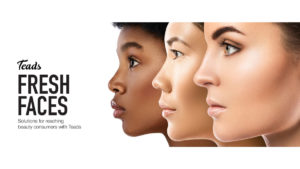 Teads, The Global Media Platform, unveils the digital world and new technologies are radically "disrupting" the beauty/skincare consumer journey. Sustainability, suitability and inclusion are the 3 values are the top drivers of their purchase path.
A new study through Global Web Index (GWI) unveils buying behaviour, advertising influence and the role of technology for global consumers purchasing skincare and beauty products.
Overall, the study examined 4,487 female internet users, 528 of whom were from the UK, between the ages of 22-64 segmented across four key demographics: Millennials (ages 22-34), Gen X (35-55), High Income (top 25% in HH income), and "eco-conscious consumers" (those who care about sustainability in packaging, testing and ingredients).
The study found that price was overwhelmingly the main driver for purchases, however consumers are making meaningful choices based on three things: 
The consumers would pay more if packaging are environmentally friendly and the products are made by natural /organic ingredients
Suitability is essential – testing & researching is vital for today's buyer. The ability to see, touch and feel products ranks highest among the reasons consumers choose to purchase a product alongside finding the right product.
Consumers are yearning for a wider assortment of product to allow them to express themselves.
The study revealed that while in-store purchases still dominate, the role of advertising and technology is crucial in product discovery. Among several key trends globally, Teads and GWI found that quality of content matters when consumers are discovering new products, video ads are key drivers in action, and the majority of consumers are receptive to technology like AR/VR in helping beauty consumers on their path to purchase.
Some of the key findings included the following:
33% of UK beauty/skincare users are influenced by online articles (either by the editorial content itself or advertising within the articles). Compared with 43% globally.
Only 8% of UK beauty consumers discover new beauty/skincare products through social media influencers, compared with 17% around the world.
36% of consumers are eco-conscious in the UK in relation to beauty and skincare (strongly agree either packaging should be eco-friendly, ingredients organic or willing to pay more for eco-friendly products).
43% of beauty/skin care users say they would pay more for for sustainable/eco-friendly products.
64% of beauty consumers take action after seeing a beauty/skincare video advertising, like searching for more, or visiting the brand's website.
56% of beauty/skincare users see value in using modern technology such as AR, virtual advisors or chatbots. France, Japan and Germany are the countries where consumers are most apprehensive, while consumers in Brazil and Mexico are less likely to be so.
68% of beauty/skincare users would like to try Augmented Reality, though about one third of those are still apprehensive about it.
Bertrand Quesada, Co-Founder and CEO, Teads, said: "When it comes to research, marketers often think about gleaning insights from search or social but consumers aren't always in the frame of mind to discover new products in those environments. We focus on empowering our advertisers with opportunities to reach consumers in context – when they are most open to learning or discovering something new. We are thrilled to offer our beauty marketers new data to create even more impactful and meaningful experiences with consumers so they can optimise creatives for their audiences and more efficiently drive consumers through the path to purchase."
Source: Teads