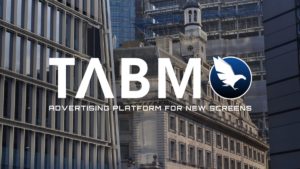 Mobile ad tech firm TabMo now gives advertisers the ability to run campaigns that display complementary messages to audiences across advertising channels.
Through the company's Hawk DSP, advertisers are able to amplify their message across mobile, connected TV, digital out-of-home (DOOH) and programmatic audio.
"Brands can now complement their mobile advertising by amplifying their message across additional channels, strengthening their interactions with the audience and increasing the impact of campaigns. Hawk is unique in enabling users to plan fully integrated cross-channel advertising campaigns through one platform," says Chris Childs, managing director at TabMo UK.
On connected TV, brands are able to display content via TV and mobile, either at the same time or in sequence. In addition, TabMo's Scan.TV QR code format can be used to place a QR code in the corner of the TV ad to be scanned with a mobile.
When it comes to DOOH, TabMo has partnered with outdoor advertising companies to make use of location data to drive relevant content to digital billboards when users will see them. Meanwhile, advertisers can also Hawk to manage programmatic audio on mobile, setting the frequency between the two channels.
"Successful integrated multi-channel advertising requires the messaging to be tailored around location and context," said Childs. "Controlling each channel via one platform allows us to optimise campaigns in order to truly influence key factors such as brand perception and intent to purchase by adjusting the communications to ensure each touch point plays its part."
Source: Mobile Marketing Magazine