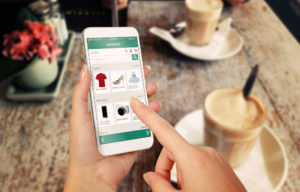 Consumers are growing more comfortable buying fashion items on their phones reveals new Black Friday and Cyber Monday data from AI-powered retail personalisation platform, Nosto. And for fashion retailers, Black Friday and Cyber Monday 2018 was 36% bigger than last year.
Nosto's analysis of millions of visits to fashion sites globally suggests mobile accounted for 71% of traffic and 56% of sales revenue (up from 64% of traffic and 50% of sales revenue in 2017) on the two holiday shopping days. Conversion rates are also up on mobile phones from 1.98% last year to 2.28% in 2018
"For a few years now, most eCommerce businesses have been heavily focused on improving the mobile experience. And our early holiday season data suggests that in fashion it's paying off: the proportion of consumers who are now willing to both research and buy fashion on their phones is on the rise – and the revenue gap between mobile and desktop is widening," said Jim Lofgren CEO of Nosto who's fashion retail customers include Gymshark, Agent Provocateur Aquascutum, and Woodhouse clothing.
Fashion Retail Performance by Device – Black Friday and Cyber Monday 2018 (Nosto)

Lofgren notes however that there's still work to do as the conversion rate is still significantly lower on phones than on desktops.
"There's still a lingering suggestion that some consumers are more likely to make their fashion purchases on a bigger screen than on a mobile. That's going to change as new innovations including the increasing use of AI and the greater availability of personalisation on native mobile apps helps to make the mobile user journey even better and easier – and as people naturally become more accustomed to buying clothes on their phones."
Nosto's data reveals that in 2018 Black Friday attracted around 13% more traffic and generated 29% more sales than Cyber Monday for fashion retailers in the study. And overall the sales revenue within the fashion sector on the two seasonal shopping days was up 36% in 2018 compared to 2017.
Quirky facts from the study: Which Nosto-powered product recommendations did shoppers click on most?
In the United Kingdom – Men's military-style winter jackets were checked out most.
In France – Unisex winter parkas were the priority for shoppers.
In the United States – The women's undergarment category saw the most action, with a buttocks lifter among the most clicked products recommended.
Source: Nosto