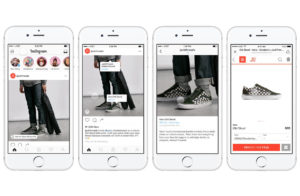 Fewer than one in six UK consumers have made a purchase using a buy button on social media with more than a third entirely opposed to the idea of buying items via social platforms.
According to an OnBuy.com survey of 1,424 consumers, Brits are most open to purchasing products through Instagram (59 per cent), followed by Facebook (27 per cent), and Pinterest (20 per cent). However, just 17 per cent of them have actually used a social buy button, while 34 per cent are not open to purchasing items through social media at all.
Those that have never made a social purchase cite fears over security (58 per cent), the privacy of their account (32 per cent), and doubts over 'legitimacy' (32 per cent) as the biggest reasons why they don't buy on social media.
Quite staggeringly, 85 per cent of respondents said they are sceptical that brands who offer social commerce could be fake or untrustworthy.
In order to change their minds, consumers would like to see images from customers who have previously bought the item (64 per cent), the ability to access customer reviews (59 per cent), an easy payment system (49 per cent), and access to video tutorials or demos of products.
"Social commerce is a relatively new service, which is still in its infancy in the UK. Naturally, it will take time for British shoppers to trust in it. After-all, we all like to stick with what is familiar. But times are changing. If shoppers don't try new advancements, they could miss out on fabulous deals, sales and launches. Plus, great insight into favourite brands," said Cas Paton, managing director at OnBuy.com.
"From our research, we know British consumers are most concerned with factors like security, privacy and legitimacy. Brands should therefore concentrate on producing a social commerce service that is 100 per cent transparent. Be clear on cost. Reassure your audience you are there to contact and to answer any qualms or queries. Guidelines should be exact and loophole free. It's a must to make shoppers feel safe online; the extra work needs to be put in to make it a success for every party."
Source: Mobile Marketing Magazine