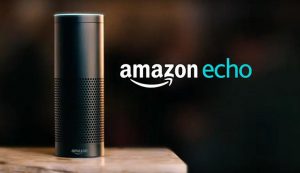 As retailers add voice-activated ordering technology, data shows that shoppers are increasingly bringing voice-enabled devices into their homes.
27 million of the devices—either an Alexa-enabled Amazon Echo, Dot or Tap device, or a Google Home voice-activated device—are in U.S. consumers' homes as of Sept. 30, up 25.9% from 20 million devices at the end of June, according to just-released data from market research firm Consumer Intelligence Research Partners LLC (CIRP). Alexa is Amazon's virtual assistant software. These figures are based on an Oct. 1-25 survey of 500 U.S. shoppers who own at least one of voice-activated device powered by a digital assistant.
"Only one year ago, the entire market consisted of 5 million Amazon Echo units," CIRP co-founder and partner Josh Lowitz said. "With very aggressive promotion and rapidly growing customer interest, the market for these devices has more than tripled and still seems to be in its early stages."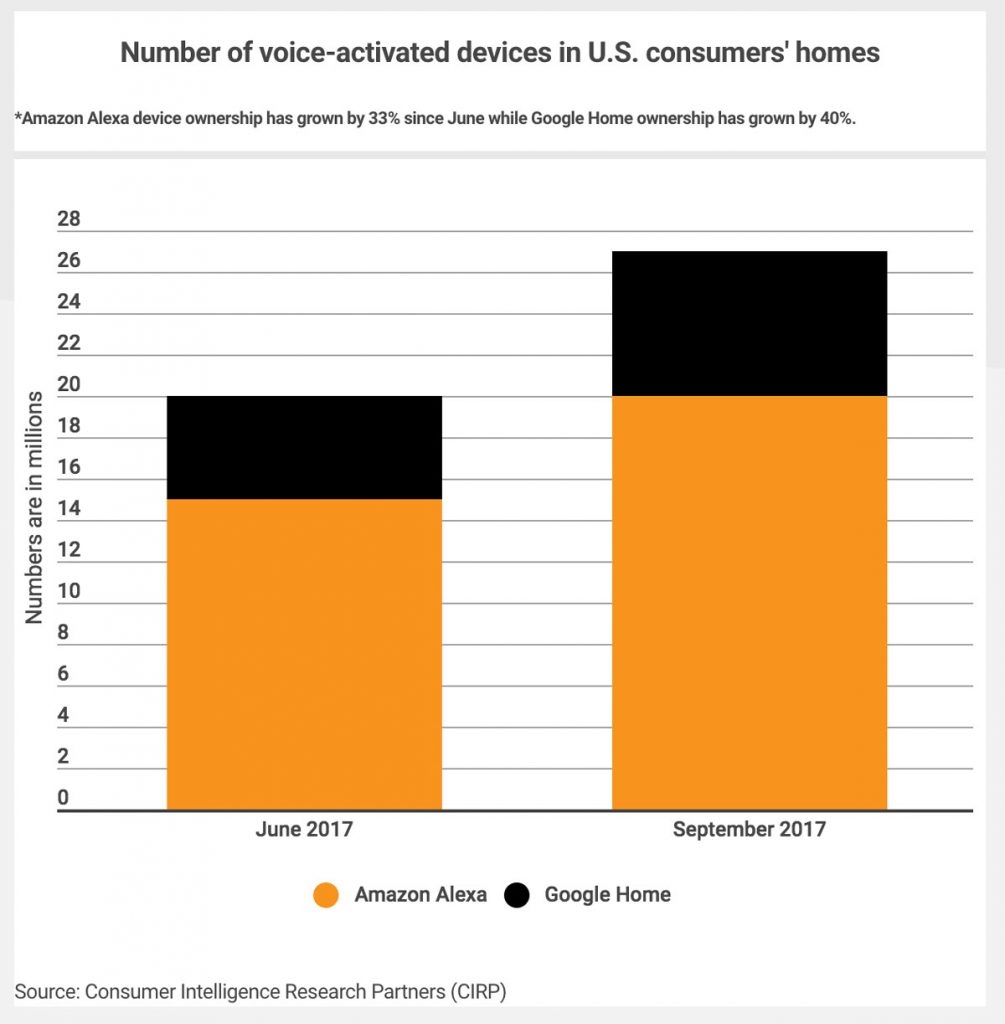 Amazon.com Inc., No. 1 in the Internet Retailer 2017 Top 500, has nearly three times the number Echo devices (20 million) in users' homes as Google has Home devices (7 million).
For Amazon, the 20 million Echo devices as of Sept. 30 is a 33.3% increase from 15 million as of June 30. Google experienced a 40.0% jump to 7 million Home devices from 5 million in the same three-month period.
Amazon heavily promoted Alexa-powered Echo devices during its Prime Day sale (July 11), and it has rolled out new versions ahead of the holidays. It also is featuring the devices in Whole Foods grocery stores and some Kohl's Corp. (No. 18) stores.
Retailers also are making it easier for shoppers to buy goods online using those devices.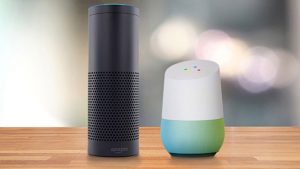 Last week, electronics retail chain Best Buy Co. Inc. (No. 10) rolled out an Amazon Alexa skill, which will allow shoppers who own an Alexa-powered voice device to buy from Best Buy—a move that prompted a tweet from Amazon founder and CEO Jeff Bezos.
Shoppers must have a Best Buy account created through BestBuy.com or the Alexa app in order to use the feature. Best Buy says shoppers can use the Alexa skill to purchase products that Best Buy has designated as "deal of the day" or pick from a list of recommended products that Best Buy tailors to the individual shopper.
Congrats to the @BestBuy team on their new Alexa skill. Customers can now find and shop Best Buy deals on Alexa. Nice! pic.twitter.com/wWuvIkvgD1

— Jeff Bezos (@JeffBezos) November 3, 2017
Best Buy joins 1-800-Flowers.com Inc. (No. 59) as another Top 500 retailer selling through Amazon Alexa. Best Buy earlier this year added Amazon Alexa and Google Home sections to more than 700 of its stores.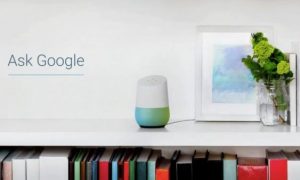 Similarly, Kohl's last month installed Amazon sections in 10 of its stores in Chicago and Los Angeles. Called the Amazon smart home experience, the sections are staffed by Amazon employees and sell Alexa-enabled devices. Kohl's also has an Alexa skill to sell its products via Echo devices.
Google added commerce capabilities to its Google Home devices in February, and a number of major retailers are now selling through the devices, including Wal-Mart Stores Inc. (No. 3), Costco Wholesale Corp. (No. 9), Target Corp. (No. 20) and Bed Bath & Beyond Inc. (No. 68).
Walmart last month began offering incentives to shoppers to purchase Google Home devices: Those who buy a Google voice-activated device will receive up to $25 off their next Walmart purchase, but only if they link their Walmart account with the Google Express shipping and delivery service.
Source: Digital Commerce 360