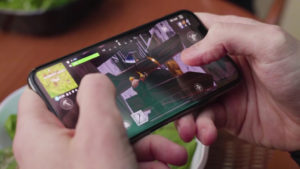 Mobile gamers in the UK are spending, on average, more than £40 a year on in-app purchases, with males between 25 and 34 spending around three times as much as the average across all age groups.
Deloitte analysed the smartphone habits of 4,150 people aged between 16 and 75 in the UK and found that mobile gamers spend an average of £3.59 a month – or £43.08 a year – on in-app purchases. Among the 25 to 34 age bracket, this average leaps to £123.72 a year.
This spending will drive the UK mobile gaming market to surpass £1bn this year, Deloitte forecasts. However, only 31 per cent of mobile gamers say they have made an in-app purchase, with just six per cent spending more than £10 a month on in-app purchases. This means that just 10 per cent of mobile gamers generate 90 per cent of total mobile gaming spend. Overall, 53 per cent of smartphone owners – equal to 21m UK adults – play games on their devices.
"It's impossible to sit on a train or bus, or indeed in your living room, and fail to be in the company of people avidly playing games on mobile phones. We're a nation hooked to our smartphones, and ever since Snake, mobile gaming has been one of the key pastimes for the population," said Paul Lee, global head of technology, media and telecoms research at Deloitte.
"As mobile gaming this year breaks the billion-pound mark, new gaming subscription packages and franchises are lining up to launch into the market. This will undoubtedly mean that mobile gaming will reach the next level in 2020, bringing fresh opportunities for advertisers and app developers."
When it comes to gender, men and women play games in equal numbers – but that's about as far as the similarities go. 29 per cent of women play mobile games just before going to bed, compared to 20 per cent of men, while men are almost twice as likely (19 per cent versus 11 per cent) to play games at school, university, or work. 61 per cent of women and 43 per cent of men play casual or puzzle games, with 24 per cent of men and nine per cent of women playing strategy games.
49 per cent of male mobile gamers spend money on in-app purchases, spending an average of £5.30 a month, compared to 37 per cent of women, who spend an average of £1.93 a month.
"The vitality of the mobile games market is down to its variety: there is a genre for everyone, regardless of gender, age or culture. This is a key part of mobile games' commercial success. Use of games consoles is, by contrast, fair narrower, with young men far more likely to be the key players," said Lee.
Comparing different age groups, 47 per cent of people aged between 45 and 54 – and 29 per cent aged between 55 and 75 – play games on their phones. The oldest age group are the most likely to spend money in order to remove time limitations to continue playing, with 26 per cent having paid to do so in the past, compared to an average of 17 per cent among all mobile gamers.
Despite their willingness to spend money to continue playing games, just 13 per cent of older smartphone users think they use their phone too much, compared to 62 per cent of those aged between 16 and 24. Overall, 68 per cent of mobile gamers think they use their devices too much, compare to the national average of 37 per cent.
"Across the generations, mobile gaming continues to grow and older users are significant market opportunity for mobile puzzle, card and board games in particular. As phones never leave our side, games will continue to matter to a wide range of age groups, and the quality of mobile games will continue to evolve for every generation to enjoy," Lee concluded.
Source: Mobile Marketing Magazine