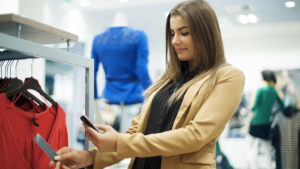 Figures are still being collated, but 2018's Cyber Monday retail event looks on track to bring in a record $7.9bn (£6.2bn) in US online sales, as millions of shoppers look to online retailers for substantial discounts.
According to figures from Adobe Analytics, sales were up 19.7 per cent year-on-year, a smaller increase than others seen over the Thanksgiving weekend, but still in line with a month that has seen every day generate over $1bn in online sales.
Thanksgiving Day and Black Friday brought in $3.7bn and $6.2bn in revenue respectively, up 28 per cent and 23.6 per cent compared to last year's figures. 24 and 25 November also set a new record as the biggest online shopping weekend in the US, bringing in $6.4bn and growing faster than both Black Friday and Cyber Monday, with more than 25 per cent growth year-on-year each day. Overall, November to date has seen $58.5bn in online sales, up 19.9 per cent on last year.
Focusing on mobile, and mCommerce's bumper year has continued. Mobile was responsible for 54.1 per cent of site visits on Cyber Monday, as well as 34 per cent of revenue. Revenue from smartphones is expected to hit $2.1bn, the highest figure ever and up 48 per cent year-on-year, potentially marking a watershed moment for mCommerce in the US.
Source: Mobile Marketing Magazine