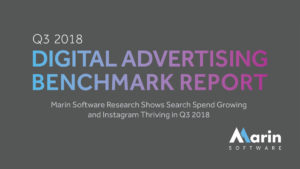 Marin Software, a leading provider of digital marketing software for performance-driven advertisers and agencies, released research findings from its global Q3 2018 Digital Advertising Benchmark Report. While search spend increased globally, growth was lower in Europe. Separately, Instagram revealed itself as an up-and-coming target for advertising dollars, with Instagram Stories being a preferred ad format.
Marin Software presents its full research, results, and takeaways in an interactive format that allows viewers to review and analyse ad spending trends by region, industry, and publisher. Key findings include:
Instagram Gaining Momentum: In Q3 2018, Instagram received almost 16% of total Facebook spend, with Facebook's news feed accounting for over 80%. Instagram Stories was the most popular ad format, accounting for 25% of all ads on the photo and video-sharing platform. Due to its rich ad format, deeper level of user engagement, and less crowded feed environment, advertisers are willing to pay a substantial premium for Instagram ad placements over Facebook. This includes a $0.82 CPC on Instagram, four times higher than the $0.19 CPC on Facebook.
Global Search Spend Barrels Ahead: Following the trend in previous quarters, global search spend continued to show robust health. With 13% year-over-year (YoY) growth, it was driven almost equally by increased click volume and rising CPCs, with the average global CPC increasing from $0.80 in Q3 2017 to $0.83 in Q3 2018.
European Paid Search Slows Down: Anomalous to increased global search spend, eurozone growth was relatively meagre at 5.7% YoY in Q3 2018. Europe also saw lower CPCs than the global average, with a $0.44 CPC in Q3 2018 compared to the global average of $0.83. With the General Data Protection Regulation (GDPR) wrapping up its first full quarter, lingering privacy concerns may be taking a toll on the European search advertising market.
Shopping Ads Gain Share: Shopping ads captured 37% of the average retailer's search spend, eclipsing the 36% observed in Q3 2017. The expectation is that dynamic ads will continue to take share from traditional text ads in Shopping and other verticals.
"Instagram's boom was one exciting area of digital advertising growth we witnessed this quarter. This year alone, Instagram jumped from five to 15 percent of our customers' Facebook spend," said Wesley MacLaggan, SVP of Marketing at Marin Software.
"We expect this trend to continue, especially with recent news of Instagram enhancing its eCommerce features. With the rise of Amazon and the success of Google Shopping Ads, eCommerce has quickly emerged as a third pillar of digital advertising, and it's clear that Facebook is looking to get in on the action. As a result, search, social, and eCommerce will continue to blend together, and marketers will need to have a complete view of the customer journey if they hope to more accurately understand campaign performance and attribution."
To create its Q3 2018 Digital Advertising Benchmark Report, Marin Software aggregated data from customers who invest billions of dollars in combined annualised ad spend on paid search, social, mobile, and eCommerce. Marin Software only includes those advertisers active on its platform for the past five quarters, measuring key performance indicators on a year-over-year and quarter-over-quarter basis, and removing any outliers with significant YoY or QoQ changes.
Source: Marin Software