In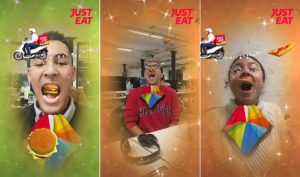 November 2017, Just Eat worked with marketing tech agency Byte London and VR content creator Inception VR to become one of first companies to launch an augmented reality (AR) experience through Facebook's AR studio. Now, the fast food marketplace has revealed that the campaign was a sales success.
The AR experience enabled Facebook users to use their phone's camera to see their favourite takeaway into their mouth in the 'real world' before giving users the opportunity to place an order. Created by Byte London, it was part of Just Eat's 'The Magical World of Just Eat' advertising campaign.
According to the company, the campaign achieved 102,000 unique interactions – with 10 per cent resulting in orders.
"Too many people dismiss AR as just another marketing gimmick," said Ben Carter, UK managing director at Just Eat. "Our Facebook AR experience demonstrates that with the right creative approach and strategic implementation, AR can provide incredible engagement while at the same time driving real world sales."
Source: Mobile Marketing Magazine