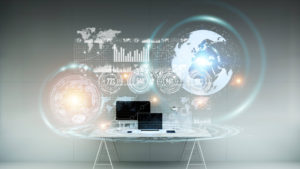 Integrating search and social channels has emerged as the biggest challenge for advertisers globally in 2018.
That's according to Marin Software's latest 'State of Digital Advertising' report, which canvassed the views of more than 500 B2C performance marketers around the world from across the Retail, Automotive, Travel and Finance sectors.
Getting these two channels to work together was the challenge cited most frequently by survey respondents. 48% of advertisers named it as one of their three biggest challenges in relation to paid social advertising.
The motivation for doing so is clear: a separate study by Marin shows that customers who interact with both search and social channels are twice as likely to convert, giving marketers more reasons to jointly manage these two critical marketing channels as they seek to maximise the returns from their online advertising investments.
Social now most popular channel, but Google dominant overall
Social has taken the lead as the most popular form of digital advertising. Nine out of ten respondents are investing in paid social media in 2018. Marketers now see the need to position social as a key channel in their online customer acquisition strategy.
It comes as no surprise that advertisers allocate more digital marketing budget to paid social (30%) than any other paid media channel, with search coming in second with 26% of the budget.  However, in spite of social overtaking search in popularity, the global search advertising market is expected to show an annual growth rate of 9% over the next four years according to Statista's 2018 Search Advertising Report. And when you add search to YouTube and Google Display, Google remains in control of the largest part of the digital marketing budgets.
Over-dependence raises questions of vulnerability  
Forty-four percent of advertisers feel that the increasing dominance of Google and Facebook will impact their business above all other trends or challenges in 2018.
With a reported $2bn in ad revenue in 2017, Amazon is capable of growing into as much an ad platform as it is a commerce platform. When asked how they viewed Amazon and its digital advertising options, 85% of respondents felt the e-commerce giant would impact their business in 2018.
It could be argued that Amazon's place within the customer journey is much further down the funnel than Google or Facebook with searches being made with an extremely high intent to buy. This could explain why 60% of advertisers view Amazon and its digital advertising options as a growth opportunity or a "necessary evil", while 17% view Amazon and its digital advertising options as a competitor. 
Mobile first strategies continue in the UK
More brands continue to adopt a mobile-first approach to their digital advertising. The vast majority of mobile display spend is being directed towards advertising on social media, which rose 44.7% year-on-year. According to the latest Expenditure Report from the Advertising Association, this, coupled with rising spend on paid search, is driving sector growth, as early estimates for the full year 2017 put total mobile ad spend above £5bn.
Irisini Davis, Director of Marketing EMEA at Marin Software said, "This year's report suggest that we'll see a broad increase in investment across all digital channels as marketers continue to adopt the full spectrum of opportunities to engage consumers. Integrating the biggest of these channels is clearly a huge challenge possibly due to Google, Facebook and now Amazon's, ever-increasing power to limit access to the insights and knowledge marketers need to make their advertising work effectively across channels. Marketers need the capability to securely integrate first party information across channels with a view into how those channels influence one another and access to innovative technologies which amplify performance of publisher tools."
Source: Marin