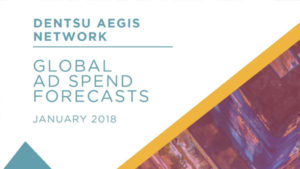 Dentsu Aegis Network's latest Ad Spend Forecasts, based on data received from 59 markets, puts global growth at 3.6% in 2018, up from 3.1% in 2017.  Events will play an important role in 2018, with the Winter Olympics & Paralympics, FIFA World Cup in Russia and the US Congressional elections all expected to stimulate ad spend growth.
At a country level, the picture is mixed. For example, while ad spend in the United States, Germany and India will grow faster in 2018 versus 2017, there are signs of a slowdown in the United Kingdom, Russia and China (see table below).
Within this context, digital media channels continue to disrupt ad spend in 2018:
Digital media channels will continue to power ad spend growth, growing globally by 12.6% in 2018, versus 15% in 2017, to reach US$220.3 billion
Mobile will go from strength to strength, reaching US$121.1 billion having overtaken desktop as a share of total digital spend in 2017. Desktop will continue to lose global share (-1.5% since 2016), versus mobile's gains (8.2% since 2016)
Digital overtakes TV, by a margin now exceeding previous forecasts. Digital ad spend will account for 38.3% share of total ad spend, TV 35.5%
Paid search accounts for the lion's share (40%) of digital ad spend, with voice-activated devices helping to power its growth. Amazon's Alexa app was the top app for Android and iPhone on Christmas Day 2017, with the company claiming its devices enjoyed the best holiday season yet
Video (24.5%) and social (23.5%) will also drive growth within digital ad spend, powered by smartphone take-up and mobile-video in particular
Programmatic spend will rise by 23% as established players and startups compete over ad tech
Commenting on the latest forecasts, Jerry Buhlmann, CEO of Dentsu Aegis Network, said: "The latest ad spend forecasts show a market in transformation, but not recession. The challenge for brands is to navigate an uneven economic outlook alongside a rapidly evolving tech & innovation landscape. In many markets, disruptive innovation – from mobile, voice activation and new ad tech players – is still providing new sources of growth and we forecast this trend will continue into 2018."
"Succeeding in this environment requires global consistency through appropriate platforms and systems, while also the flexibility and agility to work with a wider ecosystem of tech-enabled solutions. It demands a relentless focus on understanding the consumer, using data to reach real people, driving relevance, addressability and business growth," added Jerry.
Table: Forecast ad spend growth rates by region and country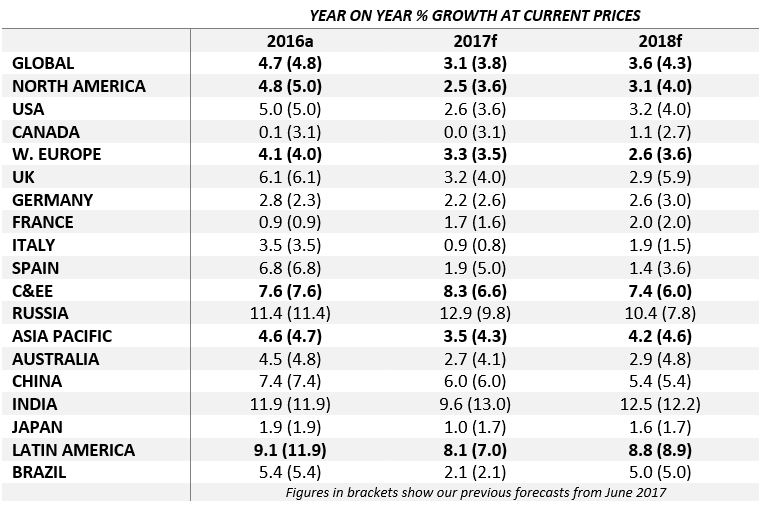 We're excited to launch our latest #DANAdSpend Report. For the latest insights & trends, download it here: https://t.co/k0QpuuBXpT pic.twitter.com/nQtIjMWLzK

— Dentsu Aegis Network (@dentsuaegis) January 12, 2018
The full report can be downloaded from here.
Source: Dentsu Aegis Network