The technology, media and telecommunications (TMT) practice at Deloitte, the business advisory firm, has announced its predictions for the UK technology sector in 2018. The news comes following the launch of the seventeenth edition of TMT Predictions 2018.
Machine Learning: Bargaining Chips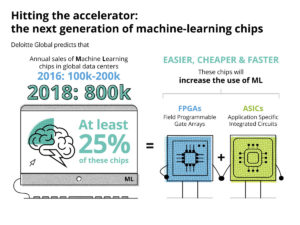 A surge in deployment of FPGAs (field programmable gate arrays) and ASICs (application-specific integrated circuits) – will be a core driver in the use of machine learning. FPGAs and ASICs will represent between a quarter and a third of all machine learning chips deployed this year.
David Halstead, lead partner for technology at Deloitte, commented: "The rise in use of FPGAs and ASICs should dramatically increase the use of machine learning, which has previously been reliant on GPU chips (graphics processing units), which may be slower or more power hungry than FPGAs and ASICs.
"However, it isn't just the chips that are getting better. Automation, data reduction and training will make machine learning technology easier, cheaper and faster for businesses to adopt and implement across a variety of sectors. In 2018, machine learning will become increasingly mainstream – but there will still be plenty of progress to make in subsequent years."
AR: On the Cusp of Reality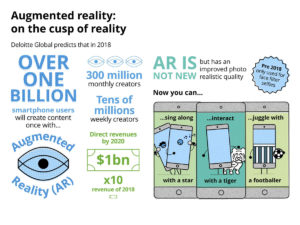 Deloitte predicts that more than a billion smartphone users globally will create augmented reality (AR) content at least once in 2018, with at least 300 million doing so monthly. In the UK, half of all smartphone users will create AR content this year.
A key catalyst of the growth in AR content available is the availability of development platforms that reduce the technical skill level required to create AR experiences: more junior developers can now create AR.
Tens of thousands of apps incorporating AR capability will launch this year, and by the end of 2018, billions of smartphone users will have downloaded an app or an update to an existing app that incorporates AR content creation capability.
Paul Lee, head of research for technology, media and telecommunications, comments: "2018 is likely to be a year of significant progress and experimentation for AR content created on a smartphone. Not only will the quantity of premium AR devices increase, but there will be tens of thousands of AR apps available for consumers and businesses."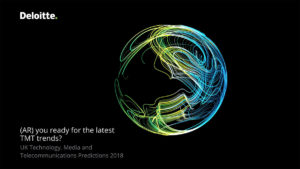 Recent technological improvements in the latest smartphone models, including enhanced cameras and software, will be the key drivers for the growth in AR adoption this year. AR-enhanced content is likely to be more shared, and when shared, more 'liked': this will expedite consumer adoption and usage.
Smartphone-created AR content will look increasingly photorealistic – viewers of AR content may perceive it to be real when they view it on a smartphone – and will often be recorded and shared as a video file.
In the medium term, AR will be increasingly used by businesses, enterprise and government for a variety of applications, with instruction manuals, technical support and public service announcements all being possible cases for AR content.
Lee added: "We expect AR capability will be a key differentiator for certain genres of apps, such as social networks, messaging, shopping and games; it will be an important driver of future smartphone upgrades. Enterprises should experiment enthusiastically but pragmatically with possible applications, but should be careful, however, not to start off with AR as the answer before looking for the solutions it could address."
The full report can be downloaded from here.
Source: Deloitte