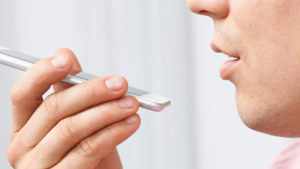 New research from Bing Ads shows marketers are yet to fully embrace the opportunity that is coming with rapidly-increasing consumer uptake of digital assistants and voice search. A study of 150 marketers and 1,000 consumers revealed that despite being used more than twice a day by the average consumer, voice search is not a current priority for marketers.
Despite the medium's growing popularity amongst consumers, when asked to rank marketing channels in order of importance, marketers placed voice search seventh out of eight. The research showed marketers aren't yet considering voice search when it comes to planning their strategies – but this could be about to change in 2019.
On average, just two per cent of the marketing budget is currently allocated to voice search, but 17 per cent of respondents say they expect this to increase in the next 12 months, as marketers look to seize the opportunities voice search presents.
Whilst more than a third of marketers stated voice search is a "fad" (34 per cent), there are signs that the industry is beginning to recognise the important role it will play in the future. Sixty per cent agreed the advent of voice search will help strengthen the marketing mix, while a third (34 per cent) think voice could even replace desktop search in the future.
Voice assistants are increasingly becoming more integrated in the everyday lives of consumers. According to the research, Brits currently use voice search 2.4 times a day, rising to 3.8 times amongst the 18-24-year-old demographic. A quarter of consumers want to be able to use voice search more often, demonstrating the need for marketers to keep up with consumer expectations.
Jason Miller, Head of Brand Marketing, Microsoft Advertising EMEA, commented on the research: "We believe the shift we are seeing to digital assistants is as fundamental as the adoption of mobile phones; marketers should ignore this transformation at their peril. In effect, search is becoming more fragmented. We're seeing the rise of short, snappy searches, but also a return to longer, more conversational queries – and digital assistants or voice search are providing the answers to both."
Whilst Miller argues there's more work to be done in educating marketers on the shift to voice, the survey shows that momentum is starting to build. Although, the medium is often used when time is of the essence, a quarter of consumers surveyed (24 per cent) said they wouldn't be surprised to receive a targeted ad via voice search.
Consumers also expressed a preference for voice search at times when they were away from their computer. The benefits were stated as speed (44 per cent), its modern feel (34 per cent) and feeling like less effort than text search (31 per cent). With a quarter of Brits wanting to use voice search more often it's clear consumer appetite is showing no sign of abating, presenting a wealth of opportunities for savvy marketers.
Sam Holt, Managing Director, UK – Performance Marketing at Publicis Media added: "Unlike traditional text search, voice search has the potential to be a 'winner takes all' environment for brands. Search rank is critical in voice, as most voice assistants will suggest the first search listing. Brands must prepare for this future. The best place to start is with a discoverability audit: exactly how visible is your brand on voice-activated devices? Furthermore, brand awareness is more important in voice than traditional search, as many consumers leverage voice to reorder their favourite products. Challenger brands, especially those without a voice strategy, may have difficulty breaking into that consideration set."
"This isn't a short-term trend," added Microsoft's Miller. "This is the future of search and has the potential to be far more powerful than traditional search, eventually even replacing typed search queries. Voice search is changing the way consumers think about search – and as the interface changes, so too does consumer behaviour. Brands need to recognise this shift and integrate it into their marketing processes. Sixty million digital home assistants are expected to ship in 2018, almost twice that shipped in 2017 and ten times the total for 2016. Add to that the potential for voice on the planet's 2.5 billion smartphones and it's easy to see why there is potential for voice to shift the established conventions of search. This new research highlights the need for marketers to adapt to the change."
Source: Bing Ads