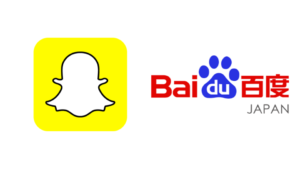 Baidu and Snap Inc. announced the renewal of their sales partnership, which first began in May 2017. The agreement authorises Baidu to act as Snap's representative to advertisers in Greater China, Japan and South Korea. Through this partnership, advertisers in these countries can leverage Snapchat's robust global reach and highly engaged community to grow their business through advertising.
In its most recent update, Snap noted that its service reaches 190 million daily active users on average globally, including 80 million in North America alone. On average, each daily active user opens Snapchat over 20 times each day, and spends an average of over 30 minutes on Snapchat per day. In the U.S., U.K., France, Canada and Australia, Snapchat reaches more 13-24 year-olds than either Facebook or Instagram.
Chinese advertisers have seen significant success on Snapchat. AjMall, a Beijing based e-commerce company focused on Middle Eastern customers, grew its revenue from zero and saw its app gain significant traction in six months by leveraging Snapchat's ad platform. "Snapchat's highly effective ad products and roughly 21 million addressable users in the Middle East allowed us to scale our business extremely quickly," said Joe Zhou, CEO of AjMall.
Shanghai based Lilith Games has seen exceptional results with Snapchat advertising. "With its young, vibrant user base, Snap's advertising platform has been instrumental in driving growth for our game AFK Arena," said Chris Zhang, Vice President of Lilith Games. "Snap's ad targeting helps us acquire extremely relevant, high-quality users."
Baidu's regional presence, local language support, extensive knowledge of Snapchat, creative services, and account management and optimization resources make it easy for Chinese companies to advertise on Snapchat.
"We are extremely excited about our ongoing partnership with Baidu," said Chad Bendall, Head of Global Revenue Partnerships for Snap Inc. "We look forward to continuing to work with Baidu to reach export-oriented advertisers in these key markets."
"Our partnership with Snap Inc. provides Chinese companies new avenues to expand their businesses through Snapchat advertising," said Sheng Hu, Head of U.S. Strategy and Partnership at Baidu's Global Business Unit. "We look forward to connecting with marketing executives in China and beyond on behalf of Snap to discuss the benefits of these advertising solutions."
Advertisers purchasing media through Baidu have access to all of Snapchat's advertising formats, including Snap Ads, Story Ads, augmented reality Lenses, and Filters. Advertisers receive robust real-time measurement, and for maximum transparency, Snap offers advertisers over a dozen third-party measurement partner options, and the new Snap Pixel for e-commerce targeting and measurement.
Source: Baidu