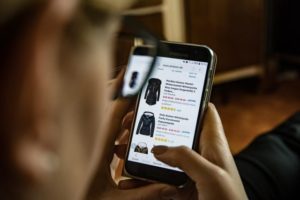 64% of shoppers feel retailers don't truly know them, according to new research that identifies the changing demands of modern shoppers.
Salesforce's latest Shopper-First Retail report identifies three "Shopper-First" mandates that apply to virtually all retailers, also revealed that 87% of shoppers say they start their hunt for a new product on digital channels.
Interestingly, shoppers choose retailers instead of marketplaces or brands primarily for customer services, but the truth is retailers have more to offer than just a convenient returns counter. Highlighted by the recent news of Sainsbury's trialling "till-free" stores.
By building a strong foundation, retailers can look to meet growing customer expectations and give the shopping experience meaning. This all starts with four key pillars:
Lead with mobile – mobile accounts for 92% of eCommerce order growth – it's time to identify where mobile shoppers are encountering friction, and fix it
Empower the store – 71% of shoppers prefer to leave a store with a product in-hand – retailers must let consumers shop in their own terms, extend the experience beyond the store and look at mobile
Infuse intelligence – personalisation influences 38% of all digital revenue – AI and machine learning can empower retailers to anticipate shoppers' next moves and deliver tailored experiences
Connect experiences – average in-store mobile score is 1.74/5 – brands must organise around the customers, break down silos between departments and unite disparate data systems
For the second edition of the "Shopper-First Retailing" report, Salesforce and their research partner Publicis.Sapient examined retail's new rules through three data sources: Digital shopping behaviour from 500 million shoppers and 1.4 billion eCommerce visits worldwide, and customer service data from 200 million service cases.
Survey of 6,000 consumers across six countries
In-person mystery shopping assessments of 70 stores across NYC, London, and San Francisco
This new report reveals where and how shoppers are interacting, where they experience the most friction, and what their behaviours mean for retailers. These trends impact every retailer or brand — regardless of size or segment, as shopper choice increasingly dictates the retail landscape.
Here are five primary findings from the research, with much more analysis in the full report:
1. Brands and marketplaces are squeezing out retailers
Salesforce asked consumers, "You're making a purchase through a brand, retailer, or marketplace. If the price is the same everywhere, why do you choose each channel?" While consumers still prefer retailers for their strong customer service (think Nordstrom and REI), marketplaces and brands beat retailers in every other consumer preference category.
Marketplaces received top scores when it comes to price, product variety, product availability, and inspiration. Brands win shoppers' preference when it comes to product quality, innovation, and uniqueness. Retailers must lean into their service strengths by modernising tactics through emerging tools like video chat or always-on chatbots. They should also aim to improve shoppers' perception of product quality and availability.
2. Marketplaces are winning the second purchase and shopper loyalty
Growing loyalty and sustaining a long-term shopper relationship (and revenue stream) is the goal of every retailer and brand. Salesforce asked consumers, "Imagine you want to buy something you've never bought before. Where are you most likely to go?" Between the choice of retailers, brands, and marketplaces like Amazon, consumers said they made 50% of first-time purchases from retailers, followed by marketplaces (31%) and brands themselves (19%).
They next asked consumers, "Now imagine you want to buy it again. Where are you most likely to go?" This is where the story changes: When it comes to repeat purchases, marketplaces handily beat retailers, with 47% of repeat purchases made on marketplaces, followed by retailers (34%) and brands (20%).
The second purchase is today's battleground. Agility, loyalty, and personalisation are imperative for retailers and brands to differentiate and win the second purchase. Unforgettable experiences and products can't be commoditised.
3. Shoppers use mobile in-stores at an unprecedented rate — but mobile store experiences lag behind
The brick-and-mortar store is far from passé: 46% of shoppers still prefer to buy in a physical store, vs. 35% for laptops, and 18% for mobile phones.
Additionally, 71% of shoppers say they're now using their mobile devices in-stores (83% for shoppers aged 18-44) — up from 62% in 2017. Shopper activities while using mobile in-stores are diverse, from purchasing to reading reviews.
At the same time, in Salesforce's mystery shopping study, the average mobile score across all stores was just 1.74 out of 5. With a few exceptions, the stores Salesforce studied severely lacked mobile CTAs, apps with relevant omnichannel functionalities, and mobile personalisation. They advise omni-channel leaders to take better advantage of shoppers' unprecedented use of mobile in stores by leveraging apps, geofencing, SMS, and social media.
4. Fast retail is here: Shoppers prefer retailers that can move at their speed
Fast fashion only tells part of the story. Salesforce's research found that meeting shoppers' expectations is now about fast retail — offering shopping journeys, transactions, and experiences that move at the speed of the shopper: 69% of consumers say it's important or very important to see new merchandise each time they visit a store or shopping site.
Additionally, 75% of consumers' site search queries are brand new each month, showing just how fast consumers are discovering new product types, brands, and features. Within the top 5% of best-selling products on eCommerce sites, the majority of them (59%) change monthly. That means retailers and brands can't sleep on analysing shopper searches and delivering the ever-changing items they seek in real time.
On the product side, 59% of shoppers say they're more likely to buy from brands that offer customised products. Salesforce's mystery shopping study noted brands like American Girl, Adidas, and Lacoste offering exclusive personalisation that went far beyond the monogram to make shoppers part of the creative process.
5. Leading brands lead with values, personalization, and service
Shoppers reward brands that go beyond transactions, dollar signs, and orders to bring relevance and resonance to the relationship. How do these brands do it? Through values, personalisation, and service.
Values: 45% of shoppers are more likely to buy if the retailer/brand gives a charitable donation with their purchase. Additionally, nine of the top-rated 10 brands in Salesforce's mystery shopping study had above-average scores in creating an emotional connection. Brands like Lush, Everlane, and Life Is Good lead with values — and shoppers are following.
Personalisation: 6% of eCommerce visits that include engagement with AI-powered recommendations drive an outsized 37% of revenue. In a landscape where 64% of shoppers say they feel retailers don't truly know them, AI-driven personalisation is a critical tool.
Service: During Cyber Week 2017, shoppers logged five cases for every one knowledge-base view. As Christmas approaches, shoppers seek direct support, but knowledge bases and self-serve options (like forums and chatbots) are increasingly preferred by customers. Empower customers to find their own answers — they'll take advantage of it.
Source: Net Imperative