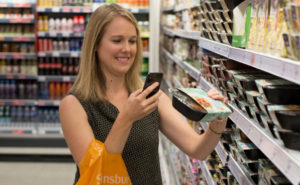 In a UK supermarket first, Sainsbury's is trailling new technology that will enable customers to scan, pay and go using its smartphone app at one of its busy London convenience stores.
Using the latest version of its SmartShop app, customers visiting the Clapham North Station Local can use their smartphones to scan their shopping as they browse the store, then pay through the app from anywhere in the store using Apple Pay. Customers can then exit with their goods without ever having to go to a till.
The new technology seems like a direct response to the cashierless Amazon Go store that opened in Seattle at the start of 2018. However, Sainsbury's is an established UK grocery brand, while Amazon is still entering the market through its Amazon Pantry service and acquisition of Whole Foods.
Customers can already use Sainsbury's SmartShop app at 68 supermarkets, but must still pay at designated till points after scanning as they shop. The app has seen over 100,000 transactions since starting, and between 3,000 and 4,000 new customers registered every week.
"Technology and changing customer shopping habits have transformed the way people buy their groceries," said Clodagh Moriarty, chief digital officer for Sainsbury's Group. "Our teams are constantly working hard to bring new convenient shopping experiences to customers and we're delighted to be the first grocery retailer in the UK to offer customers the ability to shop checkout-free. The latest version of SmartShop, with its new payment feature, will make it super quick for customers to get in and out of the store for those that want to scan, pay and go."
In addition to paying in the SmartShop app, the store in Clapham will still retain both self-serve checkouts and manned checkouts for customers who might prefer to pay at a till. Sainsbury's will use customer feedback from Clapham to develop and improve the experience before testing the technology in different store types and locations over the coming months.
The SmartShop scan, pay & go app was developed in-house by a team of experts at Sainsbury's, and follows extensive research, development and user-testing by the grocery brand. An initial trial took place at Sainsbury's convenience store in Euston train station, allowing customers to use the SmartShop app to scan and pay for the three items making up a lunchtime meal deal.
Source: Mobile Marketing Magazine