After his first Hollywood hit, King Kong rampaged through various sequels.
Aping that career trajectory, the king-sized, Kong-style gorilla balloon that stole the show in Volkswagen's popular Tiguan TV campaign poped up on September 15, in a virtual scavenger hunt game.
Called "Rule the Road" and played on Instagram, the game has a race-through-the-city format that positions the 2018 Tiguan as a fun, sophisticated car for urbanites. The game runs through until October 5. Daily clues guide users on a search for Tiguans hidden in a bustling metropolis. Once they find the right car, players submit a screenshot for a chance to win prizes, including a 10-day drip to San Francisco, Miami or New York.
In the game, Instagram's Carousel tiles form a detailed midtown map that contains lots of animated and live-action content. There's a heated coffee-house debate about which would win a fight, a tiger or an iguana; a trip to the zoo; a visit with construction workers high above the ground; and vignettes featuring the blonde driver from the gorilla commercial. Tiguans clog the streets. Doesn't anyone in this ZIP code drive a Chevy?
As for VW's helium-headed simian star, his character appealingly evolves to the point where he amusingly menaces some dude wearing a rubber banana suit.
"We developed a backstory that includes our hero driver and the gorilla—a little more depth about who she is and where she is going—and finally how the two of their worlds eventually merge," says Todd Riddle, executive creative director at Deutsch, which created both the game and Tiguan's recent TV spots.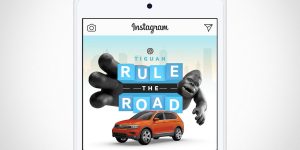 Crafting diverse, original game content was paramount because "we wanted this to be much more than a continuation of the broadcast campaign in which people just get to watch more of the story unfold in a digital medium," Riddle says.
Deutsch and VW have scored with inventive games before, but for this project, "we were more inspired by what we could create that was completely new versus repeating any past success," says Riddle. "The inspiration came from trying to find a space where we could be inventive, that offered the opportunity to dovetail with the broader idea of the campaign and where we thought our target and audience were. Because this is a completely new kind of execution, there wasn't a lot of knowledge that existed in what we were trying to achieve, so we spent months crunching numbers and reworking the details of the creative approach to bring it to life."
While the campaign is designed to last for three weeks, "the game itself is not a linear or cumulative experience that builds over time," says Deutsch creative director Zaid Al-Asady. "We've built it to be engaging every single day, so it works great for players who dive in for a single session to explore the vast world of content we've created. Those players who do follow along for the entire duration of the campaign will become more familiar with the map and the content within it, which creates a deeper experience and an advantage when it comes to solving the clues and claiming prizes."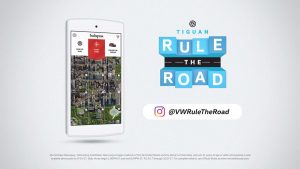 And there's a personal dimension fueled by one-on-one interaction. "We've built in a back-end moderation system that is fully powered by people, who will respond via DM in real-time with human responses to help guide users through the hunt," Al-Asady says.
Hey, anything to drive that annoying emissions monkey off the brand's back, right?
"With online formats getting shorter and shorter, there's a tendency to assume that people have a short attention span," Al-Asady says. "But if you build an experience around a clear objective and bake in unexpected moments of joy throughout, then you're onto a winner."
Source: Adweek