Television viewers and spectators at Sunday's grand finale at the Vodafone Premier Badminton League broke into impromptu smiles when they realized they had unexpected company. Lending an entirely unique experience to complement the nail biting match, were the adorable Vodafone Pugs in 'augmented' avatar. This is the first time that augmented reality has been seen on live TV in India.
Consistent with its commitment of keeping over 211 million customers in India confidently connected 24×7, Vodafone showcased its promise of a more robust, data strong network in an evocative yet simple manner. A specially created augmented enclosure drew the attention of match viewers and television audiences alike, with an army of Pugs coming on the court and interacting with the commentators.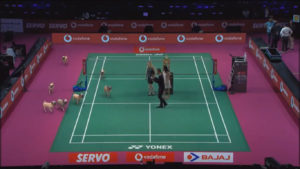 The idea was to seamlessly integrate the new Data Strong Network Campaign, being championed by the most loved brand icon, Cheeka – the Pug, with the Vodafone Premier Badminton League.
Siddharth Banerjee, Executive Vice President – Marketing, Vodafone India, said, "Vodafone is an acknowledged global leader in technology innovations and has many firsts to its credit in leveraging technology strengths to engage more closely with customers. The finale of the Vodafone Premier Badminton League presented an opportunity for Vodafone India to highlight the newly launched 360 degree Data Strong Network campaign message to our audiences. We wanted to make our campaign ideas bigger and better, by extending this larger than life experience to television viewers – perhaps a first for any Indian brand.
"The iconic Vodafone Pug, now back with a pack of pugs, brings alive our proposition that the Vodafone network is getting stronger every hour to deliver a 'Data Strong Network'."
Source: Exchange4media