Sales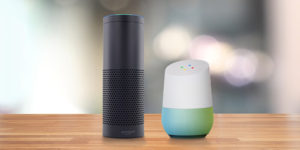 of voice-activated smart speakers have soared over the past three years with one in six American adults, the equivalent to 39 million people, now owning the tech, according to a fresh study.
NPR and Edison Research surveyed just under 2,000 individuals to compile the Smart Audio Report, discovering in the process that uptake is now 'outpacing' equivalent adoption rates in the more established smartphone and tablet markets.
Amazon and Google are leading the charge with their Echo-enabled device and Google Home as both companies benefit from a 128% increase in the install base since January 2017.
Fueling the surge in interest is consumer demand for easy to use multipurpose gadgets which can be put to a variety of tasks such as locating restaurants and shops, checking the weather or even setting alarms and controlling smart home devices such as thermostats and lighting.
A detailed breakdown found that over half of smart speaker owners kept their device close at hand in the living room while 21% stored them in the kitchen and 19% kept one by their bedside, with time spent on their speaker directly replacing leisure time which might otherwise have been spent on the radio, TV, computer or publications.
Source: The Drum