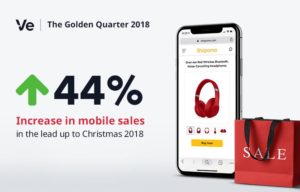 The number of Brits using their smartphones to make purchases online in the lead-up to Christmas has increased 44 per cent in 2018 compared to last year.
This increase is highlighted in the over 50 per cent rise in mobile sales expected during Black Friday weekend. Alongside mobile sales growth, a further six per cent increase is expected in browsing via smartphones, according to a Ve Global study of 50m online browser sessions across 3,000 retail websites during the third quarters of both 2017 and 2018. With this growth in browsing, mobile now registers more sessions than both desktop and tablets combined.
"Ve's data indicates that UK retailers are beginning to meet the mobile-first expectations of the modern online shopper and in good time, given the continued demise of the desktop PC and even the tablet – all of which are fading towards irrelevance as the mobile experience improves," said David Marrinan-Hayes, CEO at Ve.
"This bodes very well for brands in the run-up to Black Friday and the whole of the crucial 'Golden Quarter', as they look to capitalise on the annual pre-December rush. It also presents marketers with an opportunity to engage the always-on customer; a key demographic who carry and regularly check their mobile devices. The main challenge for brands is to develop and deploy mobile experiences that are relevant and bring value to each potential customer. Done correctly, personalised messages and content delivered direct-to-mobile via SMS or Web Push Notifications, can be welcome interruptions and lead a customer into making a purchase."
Source: Mobile Marketing Magazine