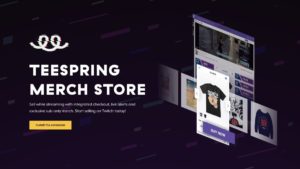 Teespring, the global platform that allows independent creators to design and sell their own creations, is announcing its new partnership with Twitch, the world's largest streaming platform for gamers.
The new partnership signals the next step in Teespring's journey to establish themselves as leaders in 'creator merchandise'; not only does the service allow creators to monetize their channels, it encourages their fanbase to subscribe to their Twitch stream with the promise of access to exclusive "subscriber-only" merch, something that has not previously been possible.
In a fast-growing era of shoppable content, audiences can now browse and buy products without ever having to leave Twitch's stream page. The Twitch and Teespring partnership is a significant move that will also give users the chance to check out directly from the integrated extension.
With 15 million daily active viewers, the growth of Twitch has seen the platform move from a predominantly gaming streaming service, to expanded lifestyle topics for content-hungry Gen Z followers. This partnership empowers creators to connect with subscribers through exclusive merch, while furthering their personal brands and businesses.
Over 100,000 creators trust Teespring to monetize their content, and with over 18,000 streamers already signed up to the platform, Twitch users are now joining this revolution.
The new platform enables users to design and sell products with the added option of making merch available exclusively for subscribers for the first time, encouraging new viewers to become followers of a user's stream and ultimately rewarding loyal fans with exclusive creator content.
Animated in-stream alerts also give users the chance to engage and acknowledge each time someone supports their channel. These alerts are built in and optimised, enhancing the users' experience further than has previously been possible.
Teespring has created the most comprehensive commerce eco-system on the market, and continues to drive change in how creators and customers alike embrace social commerce.
The function is following in the significantly successful footsteps of the YouTube partnership and the introduction of the world's first merch shelf in 2018; the function boasts 30% more click throughs than all other traffic sources, with US creators Lucas the Spider and Phil DeFranco reporting an increase in daily unit sales of 69.9% and 87.5% respectively.
The Twitch partnership now taps further into the huge Gen Z market; with 71% of teens' typical entertainment consumption is streaming, and one-third viewed from a mobile device, the market continues to offer significant potential.
Chris Lamontagne, CEO at Teespring says: "We are always seeking ways in which to bring more opportunities for creators to connect with their followers through industry firsts that keep up with the fast-paced demands of the incredibly influential Gen Z market. Content creators are bringing more and more innovation to the playing field, and we're working continuously to introduce newer and simpler ways for this young generation to build their brands and deliver for their fans. Twitch is the perfect addition to our partnership eco-system in achieving this goal and we're thrilled to bring another first to the social commerce market."
Launching on 18th June 2019, the Teespring and Twitch extension will be available to all Twitch users.
Source: Teespring