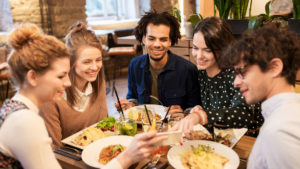 With only a few weeks to go until Mad Friday (21st December), the busiest night of the year for festive celebrations, Barclaycard's new 'Food for Thought' study reveals that a restaurant's social media presence is now more important than ever for drawing in diners at Christmas.
The company, which processes nearly half of the nation's credit and debit card transactions, has found that more than one in five (22 per cent) diners check both a restaurant's online menu and social media accounts before choosing whether to visit. Highlighting just how important a virtual presence is, 15 per cent say they rule out visiting restaurants that don't offer an online menu or social media channels. This rises to a third of 18 to 24-year olds (33 per cent) – the highest of any age group.
Displaying appetising visuals of their meals online is the ingredient to social success for restaurants in today's Instagram-first culture. British diners are using social accounts to read restaurant reviews (23 per cent), to check-out the appearance of dishes (21 per cent), to consider what they might order in advance (18 per cent) and to see how well the food is presented (11 per cent).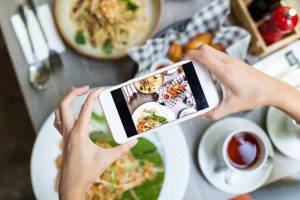 To date over 100 million pictures on Instagram have been tagged with the hashtag #foodie. And it would seem capturing images is the order of the day with 41 per cent of Brits admitting to posting pictures of their meal on social media. This trend is most prevalent among younger generations, with almost a quarter of 25 to 34- year olds (24 per cent) making this a habit by posting food snaps online often or every time they eat out.
The top reasons 25 to 34-year olds give for filling social feeds with food are: to recommend a restaurant to their friends and followers (42 per cent), and to impress others by showing off the experience they've enjoyed (26 per cent).
Ingredient Confusion
The Food for Thought research also shows that 91 per cent of diners don't always recognise items on restaurant menus while a quarter (25 per cent) are too embarrassed to ask. To demonstrate how the restaurant experience could evolve, Barclaycard has developed a prototype app – 'Transplater' – which serves up images of unfamiliar ingredients with descriptions so diners can make informed choices before they order.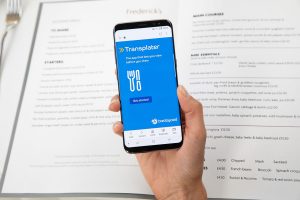 Brits are calling for intuitive technology like Transplater to enhance the dining experience not only during a meal but before it too. In addition to diners using social media to decide where to eat, 28 per cent also want to be able to book a restaurant via its social channels.
To enhance their foodie photos for Instagram, 18 per cent of diners would even like to see restaurants introduce light filters to their table tops so they can capture the perfect shot. Millennial diners are most keen to see this introduced, with almost three in 10 (28 per cent) of those aged 25 to 34 wanting this technology to boost engagement on their social feeds.
Kirsty Morris, Director at Barclaycard Payment Solutions, said: "Simply being active on social media is no longer enough for restaurateurs, they also need to consider the quality of their content to avoid missing out on potential customers. Not only are diners using social as a research tool to decide where to eat, they are also integrating it into every part of their experience. This is particularly true of younger audiences; whether it's taking pictures of meals, checking reviews or wanting to book directly from restaurants' Instagram or Facebook accounts, there's clearly a new social order for eating out."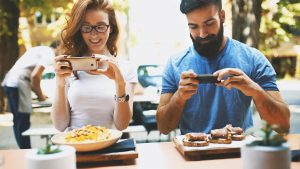 Food photographer and Influencer Giulia Mulè, founder of Mondomulia said: "Barclaycard's research shows just how powerful social influence is on dining decisions. As well as needing a social presence to get customers through the door, restaurants should also think about improving the aesthetics of their venue if they want to stand out on Instagram feeds."
Giulia Mulè's top tips on how to take the best food shots for your social feed:
Do your research: When it comes to taking the perfect foodie photo, try and do your research and scope out the restaurant in advance. You can have the best camera in the world, but if the restaurant is dark or has no natural lighting, you're not going to be able to capture your meal in its best light.
Choose a top table: A restaurant's table top often features in Instagram food photos, so be sure to consider this when showing off your meal. Look out for restaurants with trendy table tops such as marble or scratched metal as this will add an interesting background to your picture and help make your meal pop.
Lighting hacks: These days you will be hard-pressed to find a restaurant or brunch place that doesn't have spotlight lighting. While these are very cool, they can often reflect on shiny surfaces and leave specks on your photos. A quick remedy for this is to use the restaurant's menu to block the light. Or choose a table by the window to take advantage of the natural light.
Menu choices: When choosing the food to photograph, think about what the dish is going to look like. Does it contain brightly coloured ingredients? What colour is the plate that the food is being served on? Choose dishes that have a mix of colours that will complement and contrast with one another to help your food stand out – for example contrasting the vibrancy of a sweet potato with a plain white plate.
Size isn't everything: When you are a capturing a flat-lay image of several food dishes on a table, choose smaller starter plates over large dishes. These will be easier to arrange and can help to add balance to the image you are creating. Similarly, when arranging different plates on a table, use an odd number of dishes over an even number and avoid rectangular or square plates as corners are hard to photograph well.
It's all in the timing: If you're shooting coffee in an image, be sure to order it so that it arrives at the same time as your food rather than before. If it arrives before, your beautiful latte art will have disappeared and won't end up in the final Insta shot.
Landscape or portrait? It's best to post vertical photos on Instagram rather than square ones. This will not only make your final photo look better, but will also get more screen time on your followers' feeds, covering 60 per cent of their screen, as opposed to 50 per cent in square mode and 40 per cent of in landscape mode.
Rule of thirds: When putting together a picture, follow the grid lines of the 'Rule of Thirds'. Many smartphones have these built into their camera making it easy to follow. Simply use the grid lines as a guide to where to place your food on a table. Placing the hero dish on the focal points, where the lines intersect, helps to draw the viewer's attention to it.
Shooting single dishes: If you are shooting one dish on a table, do not be afraid to get up close and personal, shooting it from overhead so that the plate stands out. Adding movement to the image will really help to bring it to life; for example, breaking a poached egg to reveal the vibrant yolk, or twirling pasta, or capturing steam coming off your coffee.
Edit your images: Use camera apps or Instagram filters to edit your images before uploading them. Through simply playing around with the brightness, contrast or shadows, you can enhance your images and show off your food.
Source: Barclaycard