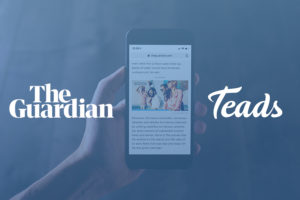 Teads, the global media platform, announced an exclusive UK and EEA partnership with Guardian News & Media (GNM) to deliver inRead advertising technology.
Teads' global media platform will enable GNM to scale its online inRead inventory, whilst increasing video and display ad monetization through both its direct sales team as well as Teads demand. Initially this will cover browsers on mobile and desktop, before extending to in-app later in 2019.
In recent years Teads' leading technology delivers a best in class experience to both readers and publishers. By creating engaging ad formats that do not interrupt the consumption of content, Teads is able to help build sustainable revenue models for publishers without sacrificing user experience.
The latest news from Teads follows several new partnerships announced in 2018, including the BBC, The Economist and VICE Media. These publishers have all joined Teads' platform that now reaches over 1.5 billion people across the globe every month and 44.2m in the UK alone. For brands and advertisers, it means Teads facilitates access to quality, brand-safe environments with some of the most respected media brands.
This huge, brand-safe reach has been built by Teads' continued innovation in video and display advertising – offering advertisers and publishers cutting-edge creative technology at scale, driven by innovation like Teads Studio for creative, and machine learning that drives real business outcomes.
Hamish Nicklin, Chief Revenue Officer, The Guardian said: "In-read video and display provides advertisers and publishers with engaging, creative and non-intrusive ad formats. We're happy to be working with Teads as part of our overall strategy to ensure brands have access to our quality environment and progressive audiences."
Lee Fels, UK Publishing Director, Teads, added: "We are delighted to be working with the Guardian. Our platform is about supporting publishers to create a sustainable future for media and journalism through best in class technology, and the Guardian absolutely embodies that approach."
Source: Teads