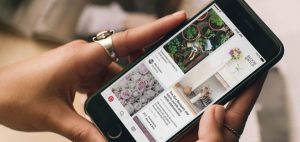 Ad spend on the major social networks rose by 40 per cent between Q2 and Q3 2016, according to the Q3 2016 Social Trends Report from Kinetic. The report looks at ad spend on all campaigns that ran through Kinetic Social's social marketing platform, serving over 2.75bn impressions in Q3 2016. This report includes ad spend on Facebook, Instagram, Twitter and Pinterest, on both desktop and mobile, and for all ad types.
Ad spend on Facebook by Kinetic Social clients increased by 50 per cent, with a slight rise in eCPM. Despite this, CPC fell slightly, due to higher clickthrough rates. Instagram ad spending has scaled to represent a full 20 per cent of overall Facebook investment among Kinetic's advertisers. Overallm, the firm says it continues to see mobile placements dramatically outperform desktop placements for both CPC and CPA metrics, though they continue to represent only about 60 per cent of overall investment, as some advertisers continue to struggle with cross-device and cross-platform ROI measurement.
According to Kinetic, advertisers are continuing to leverage Twitter's ad solutions for brand awareness and direct response marketing. Campaigns aiming to garner video views continued to perform well at scale. These video views primarily occurred on mobile devices. The report also found that video ads are twice as memorable, as consumers found them to be more relevant.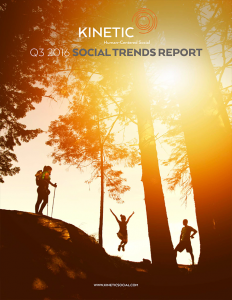 Kinetic data shows completion rates are higher for videos shorter than 60 seconds, with the highest video completion rates on 15 – 30-second. videos. In Q3, Cost per View increased slightly over Q2.
In terms of ad units, Twitter Video ads were a major performance driver in Q3. Our findings note that shorter video formats generated more completed views. CPC on campaigns targeted at increasing traffic to the advertiser's website decreased 33 per cent over Q2.
Pinterest released new targeting capabilities in Q3, including Pinterest Tags and enhanced audience targeting, rounding out the platform's ability to leverage first-party data. Kinetic saw a nearly 3.5X jump in investment in Pinterest in Q3 compared to Q2, and a 5X increase over Q3 2015. This increased investment was evenly spread across Pin Engagement and Website Click campaign objectives and reflects the more complete and robust first-party data offering from Pinterest.
Kinetic saw a 40 per cent drop in CPM and CPC on website click campaigns compared to the previous quarter, while CPM increased on Pin Engagement campaigns. The company says it expects Pinterest to continue enhancing its targeting capabilities and to continue to release new ad products.
You can download the full report here.
Source: Mobile Marketing Magazine