Facebook and Google are still top dogs in returning value for advertisers. But other ad networks are challenging for the lead in a unique index based on advertiser ROI from Singular, the leader in marketing intelligence that optimises over $10B in annual ad spend.
By deeply combining  marketing campaign data with attribution results, Singular is able to identify the most granular ROI insights, leading to the most accurate rankings possible.
While Facebook won the global rankings, Google took top billing in all three key regional rankings: EMEA, APAC, and Americas.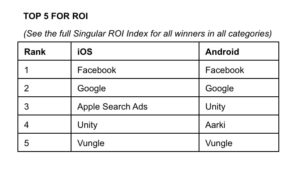 Key Highlights:
Big new player: Brands love Snapchat. Snap hit #3 for non-gaming categories in both iOS and Android after not making the list at all last year on Android.
LINE hits the index: 3X: Japan-based mobile messaging service LINE ranked on just one index last year for the LINE Ads Platform, which is how advertisers can target its 700M users. This year, it ranked no fewer than three times, plus two honourable mentions.
Twitter resurgent:Twitter won no fewer than 11 rankings on various global, regional, and platform-specific charts, including second on iOS for retention: providing users/customers who stay engaged.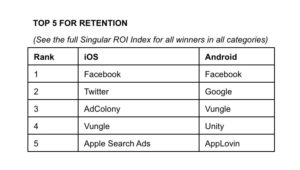 New models, new networks: There have been some huge innovation over the last year in mobile. Fortnite publisher EPIC has started to monetise game players directly, for example. Another innovator, BlueStacks, provides an emulator for playing mobile games on desktop, and its on-platform ad network is yielding significant ROI.
Android vs iOS: ad network volatility:A full third of the global Android index is brand-new, while only two new networks joined the corresponding iOS index. 60% of the multi-year winners on Android moved down, so new contenders are performing well.
Unity is hard to beat: Unity powers half the games on the planet, and its ad network is also dominant, ranking third on Android and fourth on iOS globally… an impressive achievement.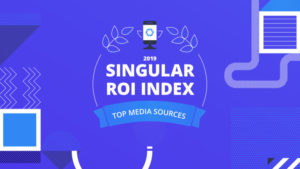 "At Singular, our goal is to help marketers win," says Singular CEO Gadi Eliashiv. "Helping them reliably find the highest return on investment is a critical part of the marketing intelligence we provide."
The full Singular ROI Report is available for download here.
Source:  Singular