RhythmOne,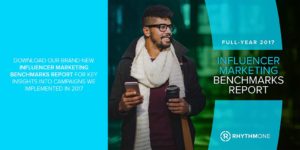 a global advertising technology company, today released its fifth annual Influencer Marketing Benchmarks Report. This industry-leading report provides insights into return on investment (ROI) and best practices based on an in-depth analysis of 74 campaigns that ran and were completed between January and December 2017 as part of RhythmOne's data-driven Influencer Marketing solution, RhythmInfluence.
RhythmOne's Full-Year 2017 Highlights
The 2017 report provides benchmarks for key performance indicators across industry categories, including Earned Media Value (EMV), Cost-Per-Engagement (CPE), Engagement Rate (ER), and Social Media Listening (e.g., brand lift and positive sentiment) to measure program ROI and efficacy. The new report also includes Sharing Analytics and Dark Social metrics to highlight extended campaign reach and engagement.
Key insights from the report include:
• Advertisers that implemented a RhythmOne Influencer Marketing program in 2017 received, on average, $12.21 in EMV for every $1.00 of spend – an increase of 4.4% over the 2016 EMV average of $11.69.
• Cost-Per-Engagement (CPE) was $0.24 across all Influencer Marketing campaigns, a figure that's decreased significantly (74.2%) from the 2016 CPE average of $0.93.
• Influencer Marketing spend was $70,685 per campaign, on average – an increase of 38.6% over the full-year 2016 average.
• ER across all Influencer Marketing campaigns was 8.20%, on average – an increase of more than 4x over the 2016 ER average of 2.01%.
• Advertisers that ran an Influencer Marketing program for two or more weeks saw an average increase of 14.78% in brand mentions and an 8.73% increase in positive brand sentiment, as compared to mentions and sentiment prior to the campaign flight.
• Instagram Stories and Snapchat – utilized by 19.2% of all campaigns in 2017 – proved to be significant drivers of engagement.
• A retail advertiser that applied RhythmOne's new Sharing Analytics and Smart Links offerings to its Influencer Marketing campaign saw a Return on Advertising Spend (ROAS) of $26 and a programmatic placement conversion rate of 1.19%.
• Advertisers in select categories that have commoditized products generally found success with engagement when influencers showcased the products and branded content in highly creative, DIY-style applications.
"The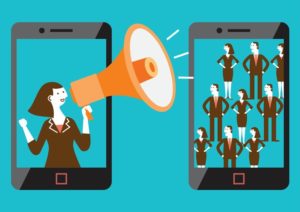 influencer space is becoming an increasingly important part of our clients' media mix as a way to be relevant, break through the clutter, and become part of the conversation in an authentic way," said Anne Heinze, Associate Director, Influencer Strategy, Haworth Marketing + Media. "RhythmOne has become a trusted partner for us because of their technology and reporting capabilities, influencer relationships, ability to adapt quickly to client requests, and their excellent customer service."
Influencer Marketing continues to gain momentum with advertisers looking to engage targeted, quality audiences at scale. RhythmInfluence's programs work in close concert with programmatic ad campaigns to amplify success, driving consumers back to the original Influencer Marketing content and increasing exposure to that content.
"This year's Benchmarks Report results serve to reinforce the power of Influencer Marketing as a critical component of our clients' marketing plans," said Katie Paulsen, VP of Influencer Marketing, RhythmOne. "The year-over-year increase in average campaign ROI not only validates the success of the campaigns we've run to date, but it's fueling future investment and growth in Influencer Marketing as a core component of brands' digital marketing strategies."
Over the course of the year, RhythmOne ran Influencer Marketing campaigns with 66 unique brands spanning 19 advertiser categories, employing over 1,550 influencers who created more than 8,700 pieces of content, in aggregate. The full report highlights aggregate campaign results, includes category-specific benchmarks across key verticals, and showcases success stories in the home & garden and travel & tourism categories.
Source: RhythmOne