Postmates,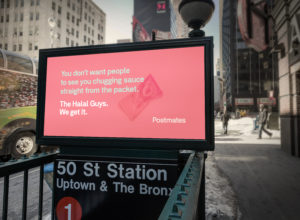 an on-demand delivery app that can deliver 'anything from anywhere', today announced it's taking its "We Get It" 360 brand marketing campaign that captures how on-demand 'anything' is a way of life to New York City. From ShackBurgers, aspirin and coffee runs for the office, to Halal Guys combos and a slice of Milk Bar's Crack Pie for dinner — Postmates helps millions of people each month get anything they need, anytime they need it — delivered to their door in minutes. The campaign is a cheeky nod to Postmates' growing place in the lives of time-pressed, information-overloaded, subway-crowded customers in New York City.
While retaining its nod to local insights and the sharp humor used in the LA creative, the "We Get It" campaign in New York is also inspired in part by some of Postmates' most popular merchants in the city. Brands involved in this campaign are by CHLOE., Halal Guys, Milk Bar, Shake Shack, Tacombi and The Meatball Shop. As part of this campaign, each merchant will run a week long free-delivery promotion over the next six weeks. More details regarding each promotion can be found on the Postmates blog.
"We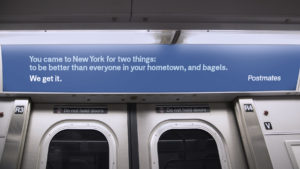 know that New Yorkers choose Postmates because of the quality of merchants available on our platform, so we wanted to use this campaign as an opportunity to showcase the city's favorite restaurants," said Lizz Niemeyer, director of brand marketing at Postmates. "We reached out to our most popular partners and came up with lines that humorously reflect both of our brands, along with a series of promotions that our customers will love."
Developed with Postmates' creative agency-of-record 180LA and media agency partner MBMG, the 'We Get It' campaign brings to life the power of Postmates' on-demand offering through OOH wallscapes and wild postings, subway ads, and interactive extensions across New York City. Headlines from the "We Get It" campaign include:
• You don't want people to see you chugging sauce straight from the packet. The Halal Guys. We get it.
• You want a burger that New Yorkers think of as highly as they think of themselves. Shake Shack. We get it.
• When you're hungry from working in fashion for six years. Food. We get it.
• When finding good Mexican food in your neighborhood is as rare as finding an interesting guy that works in finance. Tacos. We get it.
• Everyone's in the Hamptons but you. Rosé. We get it.
• Everyone you regret making out with is probably walking around NYC right now. Dinner at home. We get it.
• You'd make dinner but your bathroom's in your kitchen. Food. We get it.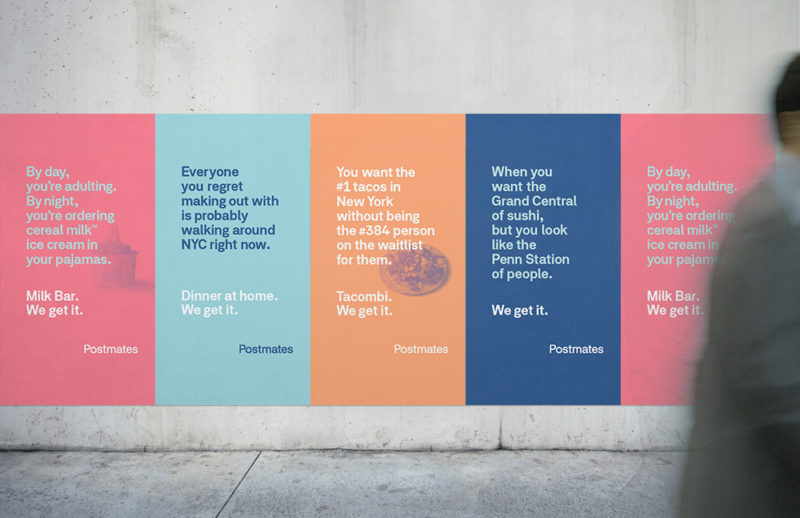 "Extending the campaign and tailoring it to New York City was a fun challenge and great opportunity to prove how local our 'We Get it' tagline could be," said Jason Rappaport, Creative Director at 180LA.
"In order to demonstrate that Postmates truly gets New York, our team did a lot of on-the-ground research before we started writing and lucky for us, one of our primary copywriters grew up in the city. Hopefully, it all pays off when New Yorkers see the work for themselves. Our research tells us they won't be shy telling us if it doesn't."
Postmates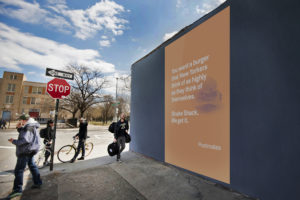 is the largest on-demand delivery network. According to the market research firm, NPD Group, there are now about 1.7 billion food deliveries made annually and others have estimated that the sector is growing by 40 percent year-over-year.
In 2017, Postmates introduced its first alcohol and grocery collections — Drinks and Fresh — in major markets, including New York. Sourcing from local partners, Drinks customers can order from a wide selection of beer, wine and spirits for delivery in 25 minutes or less. The Fresh collection curates high quality, locally-sourced groceries, delivered in 30 minutes on average. Postmates Unlimited subscribers do not pay delivery fees on over 270,000 merchants, when they spend $20 or more, for $9.99 per month.
Source: Postmates