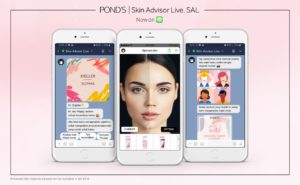 Pond's has launched an artificial intelligence (AI) chat tool that can match skincare products to customers at a higher consistency match rate compared to dermatologists, it claims.
The Skin Advisor Live bot, or 'SAL' for short, uses neuro-linguistic technology from Google and BrighTex BioPhotonics's (BTBP) DeepTag skin diagnosis technology to tell people what the best products are for their skin problems, through the chat function of social networks.
Pond's says that by combining this technology with its own clinical research data, it can create AI that will "deliver skin diagnoses of unparalleled accuracy and of a higher consistency match rate compared to dermatologists".
Rohit Bhasin, global brand vice president, Pond's, Unilever, said: "Pond's has always been known for providing consumers with expert skincare and making beauty more accessible. We recognise how confusing and overwhelming it can be for anyone to pick the right skincare products when there are so many choices. We want to use technology to solve this problem, by helping consumers gain a deeper understanding of their skin type and matching them with the most effective products. With SAL, consumers can build and optimise their skincare regime – via popular social messaging apps – through this science-based, data-led skin diagnostic tool."
The first Asian market to trial the technology was Indonesia, where the app sits on the social media app Line, with the aim of reaching younger, millennial consumers. According to Pond's, the chat tool drove 3x higher purchase conversion, compared with Indonesia's digital advertising average.
The app was also launched across Argentina, Colombia, United Arab Emirates and South Africa using Facebook Messenger. For these markets, Pond's said it had seen high purchase intent tracking, of 4x on conversion and 3x the percentage of consideration through the chatbot, compared to its existing digital advertising channels.
Many brands are now using the chat function in apps to drive business results, for example, publisher Quartz has spoken publicly about how the chat app has been used to drive app loyalty.
Source: The Drum