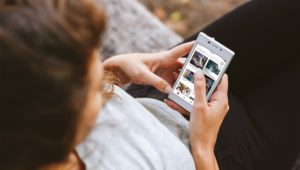 Pinterest saw its share price soar last night after posting better than expected results in its second quarterly earnings report. Revenues for Q2 2019 were up 62 per cent at $261.2m (£215.3m), while monthly user numbers were up 30 per cent year-on-year, passing the 300m mark. 
There are currently more than 200bn Pins saved on the platform. In the UK, more than 5m ideas are saved each day and according to comScore, there are 15m monthly unique visitors to Pinterest in the UK. As more than 80% of sign ups are outside of the U.S., Pinterest meets you where you are with locally relevant ideas to help you take action offline for the big and small things in your life.
eMarketer principal analyst Andrew Lipsman said that Pinterest's "blowout quarter on the top and bottom lines" was especially important in light of its post-IPO stumble in its first quarterly earnings.
"It's clear that Pinterest's ad business continues to scale through strong user growth and ongoing ARPU momentum, not to mention some signs that the international business might finally be getting off the ground," said Lipsman.
And Aaron Goldman, CMO of Pinterest advertising partner 4C Insights, described the platform's growth as "remarkable."
He said: "Advertisers using 4C to manage their Pinterest campaigns continue to invest heavily in the platform to the tune of triple digit per cent budget increases year-over-year. I've often said that the mid-funnel is Pinterest's undisputed superpower, but there's value for brands across the entire customer journey, and it's clear how that translates to revenue. People on Pinterest are in buy mode. They come with intent. They're looking for ideas and inspiration. In that context, brands are a welcome part of the experience. Looking ahead, new offerings like browsable catalogues and personalised shopping ideas in feeds will make the platform even more compelling for Pinners and advertisers alike. There's also massive opportunity with video and we've seen spending on that ad format more than double in the past year."
Source: Mobile Marketing Magazine