USA-based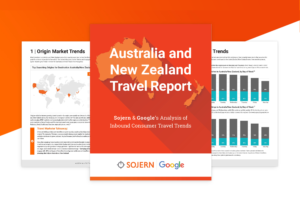 Sojern has released an Australia and New Zealand (ANZ) Travel Report with Google, using data from 350 million traveller profiles.
The report takes an in-depth view of how local, regional and international travellers search, compare and book travel.
Chris Greenwood, Sojern regional sales director said travellers now use multiple devices, channels and platforms to purchase travel – and the brands with personalised, cross-channel strategies that engage with travellers on all devices and in all stages of the 'path to purchase' are making most gains.
Key report findings include:
More mobile marketing needed
56 per cent of in-region Google travel queries for Australia and New Zealand came from mobile phones, indicating mobile-first behaviour when searching for travel. Sojern also noted the mobile-first trend also applies to international travellers planning trips to this region: 43 per cent of travellers from outside the APAC region searched for trips on a mobile device. The importance of a mobile strategy for marketers in this region cannot be overstated, it said.
Travellers use multiple devices to book
While mobile is used when planning trips to a local market, travellers are more likely to book on their mobile phones either through familiarity with the region and the booking process, or because it's a last-minute decision.
However, when booking a trip that is further away in distance or time, they switch to a desktop.
Additionally, according to Sojern data, travel searches peak on Mondays and Tuesdays across all devices. Travel search is lowest during the weekend.
With mobile searches on the rise – despite increased complexity – implementing a multichannel strategy that engages travellers on all devices at every stage of the path to purchase is key for travel marketers.
Holiday rentals, cruise growing
While air travel and hotels dominate, holiday rentals and cruise queries for in-region travel are growing – and generic queries are outgrowing branded queries, indicating that consumer sentiment around brand loyalty may be slipping.
Travellers may be searching for more generic terms or turning to the home-sharing market to try and find the best deals while browsing online.
Greenwood added, "Whether you are an airline, a big international hotel or a tour operator, you need to understand the differences between travellers looking to visit Australia and New Zealand and how to reach them as they dream, plan, and book their trips."
Source: BTN News