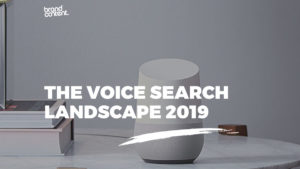 BrandContent, award-winning content marketing agency for next generation brands, has published a new report – The Voice Search Landscape – which reveals the huge opportunity for brands to capitalise on the voice search explosion which will impact all areas of marketing. 
Voted Best Small Content Agency at the International Content Marketing Awards 2018, BrandContent's voice division has compiled the report which charts the meteoric rise of voice search since 2010. The report considers how voice search is transforming UK consumer behaviour, as well as looking at the opportunities that lie ahead for brands both big and small.
The report reveals that more than a fifth (22%) of adults in the UK are using voice search three to five times a day, and two in five people spend at least half an hour a day using a voice assistant – demonstrating the scale of the opportunity for brands to reach customers in their homes and on-the-go.
By 2020, 50% of all searches are expected to be through voice, and the growing interest in voice activated devices is evident in their sales. In 2017, sales of Google Home and Amazon's Alexa totalled around £3.5bn and are forecast to rocket to more than £23bn by 2024.
Siobhan Congreve, Head of SEO at BrandContent, says: "While voice technology is still very much in its infancy, its potential is enormous. As trust in the technology grows, we'll see smarter uses of voice by brands as part of the voice revolution. It's only a matter of time before it becomes as normal as sending a text. It's not just big name brands that will benefit from the rise in popularity of voice search either. Many of voice searches to date have been local queries which create opportunities for the smaller, local businesses just as much as for online giants. Marketers and R&D teams looking to stay ahead need to think voice-first now rather than later, or they risk being left behind by competitors."
BrandContent's voice division helps brands take advantage of voice assistants by optimising for voice search and through the development of Alexa Skills and Google Tasks, ensuring they integrate seamlessly with the entire customer journey taking content marketing programmes to the next level.
BrandContent works with leading companies such as FTSE 100 Admiral, AIM-Listed FairFX, Ageas, NFU Mutual, the Welsh Government, NEST and a number of FinTech and technology clients in the UK, Europe and the USA.
Source: BrandContent