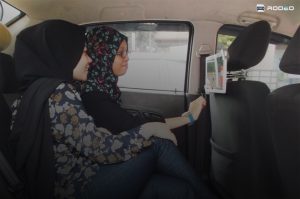 In some cities a ride in a taxi can take some time and Malaysian cities like Kuala Lumpur are no exception. Where in places like London and New York, traditional taxis have long included screens in the vehicle, the increased use of services like Uber means these are a diminishing opportunity.
Until now.
Rodeo, a Kuala Lumpur-based business, has launched a system which plans to put screens into cars that use new systems like Uber and Grab. The system effectively creates digital out of home (DOOH) opportunities for brands that take advantage of people's downtime.
Rodeo has gone one better, however, and is using programmatic technology to trade the ads, facial mapping technology to better target the ads and is linking the interactions with consumers using mobile technology, such as iBeacons.
Valens Subramaniam, founder of Rodeo, spoke to The Drum about the launch, which will see the technology now being sold into media agencies and marketers direct.
"A typical ride ranges between 15-20 minutes and we don't want to bore the riders by pushing merely ads. From our research, we realised taxi riders are mainly white collar, tech-savvy, middle class, as well as being above affluent, travellers and tourists. So the content that is pushed is very much lifestyle and trendy curated content. Not only that but we also publish upcoming movie trailers as well.
"As for the ads, our ads are merely 15 seconds, as we wish to create the stickiness and high frequency so that riders will recall a brand better. The ads are very much tactical and promotion-based, which will get the riders to interact and engage with the ads. The platform is designed not as display media, but as to be more engaging platform, which is what our clients will look for especially to measure their ROI," he said.
The system will use facial recognition technology to target the ads for the rider but Subramaniam says it will only register factors such as gender, rather than using it to recognise who the person is.
"Face recognition technology will come in on Rodeo 2.0, where the ads will push based on gender. Say the rider is Female, the system automatically push only female-related products, such as fashion, beauty, cosmetic, health, fitness and clothing" he added.
The technology works via a partnership with Lenovo for the tablet technology, and Shell, BP Castrol and Allianz on a strategic partnership. In terms of clients, according to Subramaniam, the company has already signed deals with Lenovo for product placement ads, as well as Li Life Inspired, eBizu (an Asia Pacific beacon leader), Zepto, Sling and one of Malaysia's leading telecommunication company, and is in talks with all the main media agencies.
This sort of technology is gaining traction elsewhere, with OfferMoments using similar technology to create personalised ads in outdoor advertising, a move directly inspired by the Minority Report film.
Source: The Drum