Kool-Aid is promoting the launch of a new carbonated drink aimed at older kids and teens with a campaign on social media, according to a statement.
From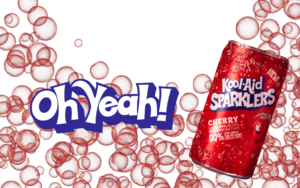 now till September 15, Snapchat users can add special lenses and filters to their photos. When using the inward-facing camera of a smartphone, users can see virtual bubbles spill out of their mouths, while using the outward-facing camera overlays a digital animation of a dancing and bubbling Kool-Aid mascot over the user's real surroundings.
Short videos on YouTube show the Kool-Aid man in situations where he starts bubbling while hanging out with teens at malls, concerts and parks. The campaign creative developed by agency McGarryBowen aims to leverage popular content trends like unboxing videos and shareable GIFs on Giphy to connect with the social-obsessed audience.
By primarily using Snapchat and Giphy, Kool-Aid could reach a younger audience — one that typically prefers using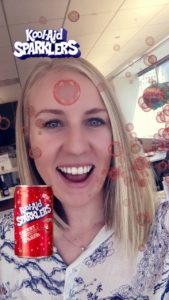 chat apps over phone calls to talk to friends and family — to boost brand awareness among the next generation of consumers as they begin to gain more purchasing power in the approach to adulthood. The news comes as brands like Diet Coke have struggled to reach younger consumers, whose tastes are shifting away from soda to energy drinks. The Coca-Cola brand is in the midst of a major revamp to try to reach these consumers and Pepsi, with its new Bubly line, as well as others are also investing heavily in reaching these consumers, meaning Kool-Aid has its work cut out for it in trying to stand out.
While Kool-Aid ranks in the top 50 for brand awareness, its latest marketing effort aims to help modernize the iconic 90-year-old beverage brand that's often associated with summertime. People drink about 563 million gallons of Kool-Aid every year, with about 225 million gallons consumed during summer months, likely one reason for the timing of the brand's latest campaign as summer approaches.
Extending the awareness in a way that appeals to older kids and teens means reaching them on mobile or social-focused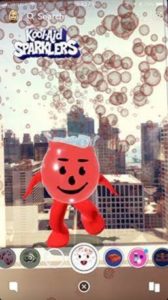 platforms, especially Snapchat. The disappearing-message features of Snapchat are a big draw for teens, along with the ability to chat one-on-one or in smaller groups.
This broader shift toward mobile advertising platforms comes as consumers experiment with how they hold typical conversations. Texting now goes beyond typing words to include emojis, stickers and GIFs. There were 13% more posts containing emojis in March 2018 than there were a year earlier, social intelligence firm Talkwalker reported, and more branded content on Snapchat than ever before. eMarketer forecasts that Snapchat will add 1.9 million users between the ages of 12 and 24 this year, signaling that Kool-Aid in this campaign is smartly leveraging the popularity of social platforms where its target audience tends to communicate.
Marketers are following consumers' preferences and beginning to incorporate fun features on platforms like Snapchat and Giphy into the marketing mix. That means that legacy brands like Kool-Aid will likely want to adapt its strategy toward mobile in order to be part of social conversations and remain a relevant, household brand name, especially with kids and teens.
Source: Mobile Marketer