Kia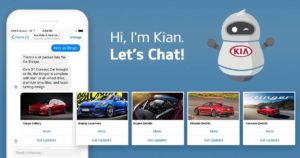 boosted sale conversion rates after releasing a chatbot on Facebook Messenger to help car buyers find answers to their questions, according to Digiday. The South Korean carmaker, which is partly owned by Hyundai Motors, in November launched its Kian chatbot as a direct source of information about its vehicles.
Kia received 3x more conversions through Kian than through its main website, Kia.com, although the company maintains more than 800 websites for car buyers. Kian's conversion rate was 21%, while Kia.com's are 7%, Nathalie Choy, national manager of digital, social and CRM marketing at Kia Motors America, told Digiday.
Kian has exchanged 600,000 messages with customers, leading to 50x more engagement through Messenger. Chatbot technology platform CarLabs and mobile agency Ansible created the chatbot, which is capable of acting as a singular point of contact for customers.
Bots continue to evolve in accessibility and practical application, with Kian serving as an example of how brands can leverage them to reach people on newer platforms like Facebook Messenger, and even convert them into customers. Because Kian users are asking questions directly of the chatbot, the company can quickly ascertain what they're thinking about, as compared with monitoring clicks on different parts of the site. Kian can tell people who've lost their keys how to get a replacement set and direct them to a local dealer, for example. When a Kia owner asks about noisy brakes, Kian can try to explain the cause and point to a service department at the dealer, along with helping with services like roadside assistance, making payments and looking at car inventories to compare with competitors.
The information gleaned from these interactions informs the bot's artificial intelligence and machine learning to improve its answers and gather insights to use for retargeted ads. Kia has seen a 24% response rate when sending follow-up messages with Kian, per the report. The company is also saving the expense of live customer service reps while offering 24-hour service with the chatbot.
The success of the Kian chatbot has led the company to advise its headquarters in Korea about using the technology in other parts of the business, such as its parks and services, sales, connected car and finance divisions.
Source: Mobile Marketer