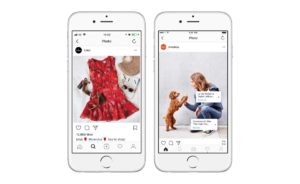 Instagram's shopping service is expanding into the UK, letting retailers tag their products in images to sell directly to people on the the social network.
The launch in the UK follows a small-scale beta trial with Marks & Spencer, Heidi Klein and Mahabis. Amy Cole, head of product development at Instagram, says the shopping tool aims to bring the "mindset of discovery" to businesses looking to sell their products online.
Successfully introduced in the US in October 2017, the new 'Shop' interface simplifies onsite buying, enabling retailers to link to the product on their own sites, and to list information such as cost. Previously sellers had to make do with a clunky "link in bio", with Instagram refusing to allow links in captions.
Now sellers can tag up to five products per single image post or 20 products per multi-image post. At present, Insta-shopping is only for physical items such as clothes and beauty items. After an account has posted nine times, the option to Shop becomes available, letting users scroll through all tagged for-sale items. Instagram will not be charging businesses or consumers for the service, and at present it only applies to organic rather than sponsored content.
Sales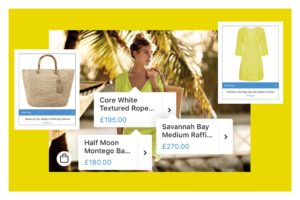 at the UK's 20 biggest online-only retailers grew 23 per cent from 2016 to 2017. Instagram's Cole says the new shopping tool would help smaller businesses circumvent traditional revenue streams and reach consumers directly.
For Instagram – and smaller retailers – the launch of shopping on the social network in the UK is an opportunity to further the "disruption of mundane products" trend. For every Simba, Casper and Eve, there's also a Mahabis. The firm's £80 slippers helped it reach a turnover of £18 million in three years, almost exclusively through paid promotion on social networks.
Ankur Shah, founder of Mahabis, identified his niche by studying internet searches. "For us, it's a ripple effect – with people buying through Facebook, we can then target them because we get more data, and get them to sign up to our email list," says Alice Apsey, head of content and partnerships at the slipper startup. "It's basically a way for us to get a huge platform of acquired customers that we can then market in our own ways." For brands like Mahabis, getting your product to appear organically makes it more likely to land a soft-sell – when people don't realise they're being targeted, they're more likely to buy.
The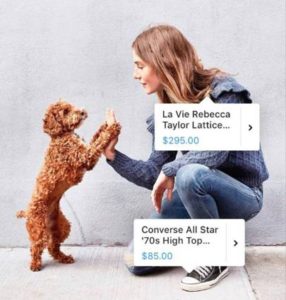 real draw for Facebook-owned Instagram is in acquiring data about people's purchasing habits to better target advertising. "Apart from generating revenues from advertising, the one thing they are really building up is data. They understand people's habits, what people do, what people think, they can build up more and more accurate profiles about individuals," says Feng Li, chair of information management at Cass Business School.
"In a way, even if they don't make a lot of money directly, the value of the information is very often under-appreciated," he adds. "When you give away something in isolation, it doesn't matter a great deal – but when you begin matching them with the individual and putting things together, that's when it becomes very valuable."
Source: Wired