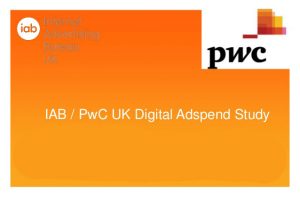 Digital advertising received $17.6 billion in investment from US companies in Q3 2016, according to the IAB's and PwC's latest Internet Advertising Revenue announcement.
The report is based on information provided by companies that sell online advertising, including data related to online revenue from web sites, commercial online services, and other activities.
The latest IAB and PwC report confirms that digital ad spend is increasing relentlessly. This is the highest third quarter for digital advertising on record, which isn't all that surprising given the relative nascence of the digital ad industry, the growing sophistication of ad products and services provided by ad tech firms and platforms, and the ongoing emergence of new players in the space. Altogether, the revenue haul in Q3 2016 represented a 20% increase over Q3 2015, and a 4.3% sequential increase from Q2 2016.
However, the report does not unpack where dollars are flowing within the industry, but only analyzes how much is going into digital advertising as a whole. A more piecemeal analysis from IAB would be useful for painting a more nuanced picture of the health of the digital ad industry, especially given the spate of complaints that Google and Facebook are swallowing the vast majority of ad spend – anywhere from 75-85% by some estimates – as well as virtually all of the industry's growth, according to Jason Kint, the CEO of Digital Context Next (DCN).
Dollars are increasingly flowing from traditional ads to digital, as strong growth in mobile, video, and social spending continue to change the face of the US media market.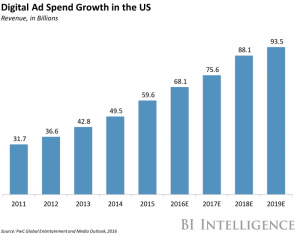 Over the next five years, marketers will especially embrace mobile. Mobile will drive up spending on video, search, display, and social, and propel the migration of ad dollars away from traditional media, including newspapers and magazines.
BI Intelligence, Business Insider's premium research service, has compiled a detailed report that forecasts spending trends for the major digital ad formats — including search, display, and video — and mobile vs. desktop. It also examines trajectories for social ad spending and programmatic ad buying, which cut across digital formats. Finally, the report looks at how spending on traditional media formats will grow or contract over the next five years, as digital, and particularly mobile, rises.
Here are some of the key takeaways from the report:
Mobile will be the fastest-growing advertising channel and buoy spending on each of the digital formats. US mobile ad revenue will rise by a 26.5% CAGR through of 2020.
Digital video ad spending is rising faster than search and display. US digital video ad revenue will rise by a CAGR of 21.9% through 2020.
Mobile search will overtake desktop search ad revenue by 2019. Mobile search ad spend will rise by a 25.2% CAGR, while desktop search ad revenue will decline during the same period.
Mobile display ads, including banners, rich media, and sponsorships, will overtake desktop display-related spending even earlier, in 2017.
Social media ads, which cut across display and video, are seeing fast adoption. US social media ad revenue, which includes video and display ads, will grow by a CAGR of 14.9% through 2020.
The rapid embrace of programmatic ad-buying tools is fueling a dramatic uptick in the share of digital ad spending coming through programmatic channels. Programmatic transactions will be a majority of total US digital ad spend this year.
Unlike digital, traditional ad revenue will remain flat overall through 2020. Total traditional ad revenue will rise by a CAGR of just 0.4% between 2015 and 2020.
In full, the report:
Forecasts ad revenue for emerging digital ad channels and formats like mobile, video, social and programmatic over the next five years
Explores why ad revenue is flowing from desktop to mobile
Examines the stagnation of traditional advertising channels like TV, magazines, and newspapers
Source: Business Insider