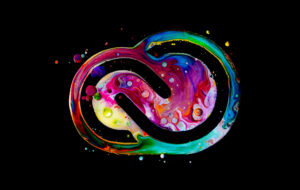 Despite being the first generation to grow up online, new data reveals that Generation Z (age up to 23) are the age group most likely to be influenced by what they see on the internet.
Adobe's Across The Generations study surveyed 1,200 UK consumers evenly distributed across Gen Z, Millennials, Gen X and Baby Boomers. It found that 43% think Gen Z are the most likely to be influenced online – be it by advertising, news sources, or influencers and friends on social media – compared to just 17% for Baby Boomers. 
Gen Z are also shown to be self-aware, with 41% of the age group agreeing they are the generation most likely to be influenced online. Despite this, Gen Z exhibit behaviours that suggest they are more sophisticated online than other generations.
The data revealed Gen Z to be the savviest when it comes to managing the data they share, with 33% taking an active role in configuring data preferences on social networks, compared with 29% across other age groups.
The age group also has a clear understanding of the value exchange that sees them receive a more tailored experience from brands in exchange for data, with 69% willing to share data with brands compared to 52% of Baby Boomers.
Despite this greater willingness to share their data, the research also showed Gen Z consumers can be ruthless with brands that don't deliver experiences they expect with one-in-five (21%) restricting the data they share with brands that don't deliver.
Gavin Mee, Vice President of Northern Europe, Adobe said: "As 'Digital Natives', Gen Z have developed relationships with brands from a very early age, meaning they're much more familiar with data/experience value exchange. But companies can't take these relationships for granted – if a brand falls short of their high expectations, this data-savvy age group has no problem exercising choices and moving to a competitor that can deliver a personalised, relevant experience. Across all generations, and especially with older age groups, brands need to build trust by being open about how they use data, and clear about the added value it enables them to deliver."
Adobe's Across the Generations study explored how different generations view brands online, data sharing preferences and habits, and expectations of the value exchange and also found:
Gen Z are the most receptive to online ads, with 52% frequently engaging with companies that place ads online, compared with 30% across other age groups. 
Baby Boomers are the least trusting with only 17% believing brands will "do the right thing" with their data. 27% of Gen X, 26% of Millennials and 28% of Gen Z felt the same, indicating that Gen Z are more trusting. 
Baby Boomers are the most willing to swap their data for a discount or special offer (73%). The appeal of a good deal applies across the ages (60%), although Gen Z are the least likely to expect discounts and special offers in exchange for their data (47).  
Gen Z prize exclusive experiences more than any other generation, with 28% willing to exchange their data to get one. Experiences are less of a focus for discount loving older age groups, with just 20% of Millennials, 14% of Gen X and 8% of Baby Boomers willing to do the same.
Adobe commissioned Advansis to carry out the "Across the Generations" research. It surveyed 1,214 UK consumers between the ages of 18-75 between July 24-30 2019.
Source: Adobe